Gluten-free scones
Scones are a quintessentially English dessert that no afternoon tea would be complete without. And now you can enjoy them even if you follow a gluten-free diet with this gluten and sugar-free recipe.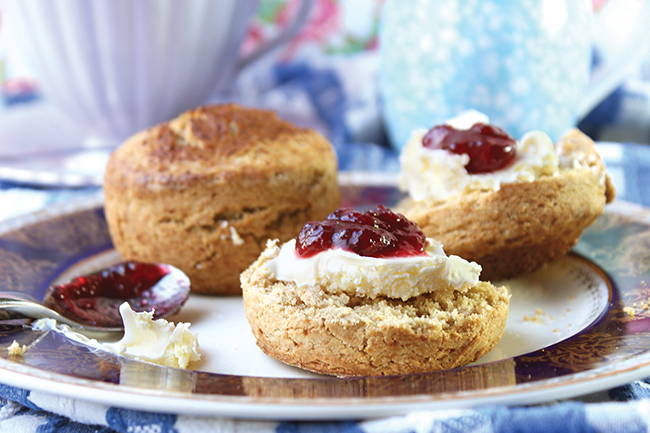 Gluten-free scone recipe
By Vicki Montagu (www.freefromfairy.com)

Makes 6 | Prep 20 mins | Cook 15 mins | Calories 260 (per scone)
GF SF EF V
Ingredients
230g (8oz) Free From Fairy self-raising flour
1 tsp psyllium powder or xanthan gum
20g (1oz) coconut sugar (I used the ginger one from Coconut Merchant) plus extra for sprinkling
75g (2

¾

oz) butter, cubed (I used goat's)
70g (2

¾

oz) plain full fat yoghurt (I used goat's)
70g (2

¾

oz) full fat milk (I used goat's), plus extra for rubbing on top
Method
Preheat the oven to 200ºC/Gas Mark 6℃and place a large baking tray inside to heat up.
Place the dry ingredients into a food processor and blend until well mixed. Alternatively, place in a large bowl and mix well by hand.
Add the butter into the dry ingredients and either blend until the mixture looks like fine breadcrumbs, or rub the butter into the flour by hand.
Add the yoghurt and milk and combine into a dough that just holds together. Flour a clean dry work surface and empty the dough onto it. Knead until you have a rough ball, then press out with your hand until around 2cm (¾in) thick.
Using a floured straight-edged circular 7cm (2¾in)diameter cutter, cut out the scones. You should get four before bringing the dough back together to make another, then repeating with the final piece of dough. Rub the tops of the scones with milk and sprinkle with a little sugar if desired.
Carefully remove the hot baking tray from the oven and quickly place the scones onto it. Bake for around 15 minutes until golden on top. Allow to cool for 5 minutes (or fully) before cutting. Eat on the day of baking.
---
About the author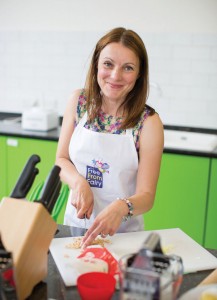 Vicki Montague is an acclaimed and well-followed blogger, recipe writer and teacher who found her calling after she was diagnosed with IBS. She was later to discover her daughter had coeliac disease. As well as creating recipes, Vicki offers unique cookery lessons too – from the comfort of your own home – via video linkup. She also has a number of videos on her YouTube channel, showing people how to make her simple and tasty dishes. www.freefromfairy.com
Comments
Comments
Tags:
Gluten Free
,
Gluten Free Dessert
,
Gluten-Free
,
Gluten-Free Recipes
,
Recipes
,
Sugar Free Dessert
,
Sugar-Free
,
sugar-free recipes