Subscribe
Your Gluten-Free Heaven magazine subscription offer
Gluten-Free Heaven magazine brings you 101 carefully selected, seasonal, gluten-free recipes every issue. Whether you choose to eat gluten-free as part of a healthy diet, are gluten-intolerant or have coeliac disease, the great range of tempting and nutritious recipes in this beautiful magazine will help you enjoy varied and tasty meals every day of the week. And with a new issue every month, you'll never run short of new ideas, features and inspiration. Eating gluten-free can be a challenge – let Gluten-Free Heaven make your life just that little bit easier – and a whole lot tastier!
Summer Sale – 3 issues for just £5!
Subscribe today to make the most of our summer sale where you'll receive 3 issues for only £5.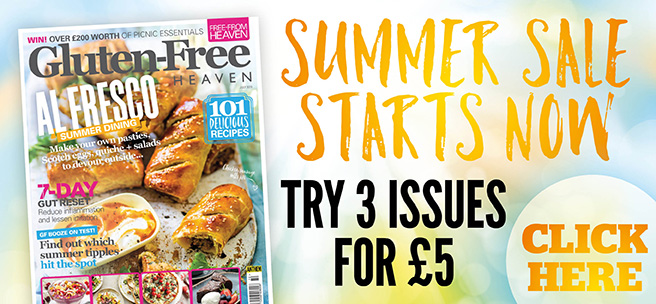 Subscribe to Gluten-Free Heaven magazine today to receive all of these great benefits:
3 issues for just £5!
Never miss an issue ever again
Get all 12 issues delivered direct to your door
Pay by convenient Direct Debit
Only 11.20 every 3 months thereafter
Same great offer for international delivery
🇺🇸 USA/Canada: 3 issues for $10, then $26.99 every 3 months thereafter
🇪🇺 Europe: 3 issues for €10, then 22.49 every 3 months thereafter
🇦🇺 Australia: 3 issues for A$20, then A$33.70 every 3 months thereafter
🌍 Rest of World: 3 issues for £10, then £17.99 every 3 months thereafter
Terms and conditions: Offer code SS19WB. Offer ends 30 September 2019.
Your subscription will start with the next available issue. Gluten-Free Heaven is published 12 times per year. Savings are available to Direct Debit and continuous card payment orders only. After you first 3 trial issues, your subscription will continue at the listed price every 3 months thereafter, saving 25% off the local cover price. If you wish to cancel your subscription, you may do so at any time within the initial 3 month trial period. 

---
Want to know more about Gluten-Free Heaven magazine?
Check our previous issues, click here to view back issues of Gluten-Free Heaven.
---
Get the Gluten-Free Heaven app!
We also have a fantastic app where you can download the latest issue of Gluten–Free Heaven or subscribe to the digital edition.
Single issues for £3.99
Subscribe from £14.99 and save 37% on the single issue price
Every issue direct to your device the day it goes on sale in the UK
Read your magazines on virtually any device at any time – your subscription will allow you to read your magazines, on your iPad, iPhone, Android device, Kindle Fire, PC and on Windows 8
Go to your App store and search for Gluten-Free Heaven or go to Pocketmags to order now!