Download the Gluten-Free Heaven app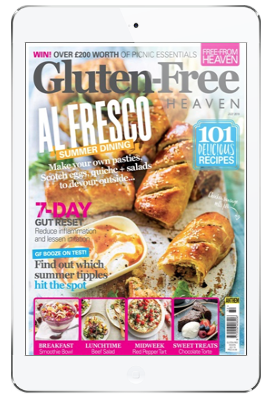 Gluten-Free Heaven's digital edition allows you to enjoy all the exclusive content of the magazine on the go, wherever you are and whenever you want.
Available as a single issue, or as a digital subscription, the Gluten-Free Heaven digital edition is the must-have app for anyone who eats gluten-free.
Available on iTunes, so it's never been easier to find a way to read Gluten-Free Heaven magazine. Click here to see our latest digital subscription offer and save up to 33%.
How to download the Gluten-Free Heaven app
Order from our digital partner, Pocketmags

Gluten-Free Heaven app for Android devices via Google Play

About Gluten-Free Heaven magazine
From health loving hipsters to those with food intolerances, 'gluten-free' is taking over diets everywhere. With gluten-free shops popping up all over the place and  a huge shift in modern eating habits, Gluten-Free Heaven magazine is just the supplement you need – whatever your reason for switching to the gluten-free life. Offering multiple health benefits with no loss of flavour or taste, Gluten-Free Heaven brings you the best of gluten-free.
Every issue is packed full of over 100 gluten-free recipes for you to try at home and impress your friends! Whether it's a delicious lasagne for a dinner party, a triple-layered birthday cake to celebrate a loved one's special day, or even if you're just baking for yourself, there is something for everyone inside Gluten-Free Heaven.
Enjoy reviews of the latest products, interviews with personalities and chefs, and competitions you won't find anywhere else. Subscribe to Gluten-Free Heaven magazine today and make your life a whole lot tastier!
Great reasons to subscribe to Gluten-Free Heaven digital edition today!
Save 33% on the equivalent single issue price
Read your magazines on virtually any device at any time. Your subscription will allow you to read your magazines on your iPad, iPhone, Android device, Kindle Fire, PC and on Windows 10
Back issues are stored digitally, saving space, so can be taken with you anywhere at anytime on your favourite digital device
Just £29.99 for 12 issues per year (normally £59.88)
Not in the UK? Thats ok, get the same great deal when you subscribe to the app and pay in your local currency too!

€33.99 /
$47.99 /
$30.99
Want to get the print edition with collectable covers? Click here to check our Gluten-Free Heaven subscription offers