GET Poppin' Popcorn Chicken… Popcorn
PROPER Snacks, makers of PROPERCORN and PROPERCHIPS, has joined forces with KFC to launch the latest finger lickin' good snack with a satisfying crunch: popcorn chicken…popcorn.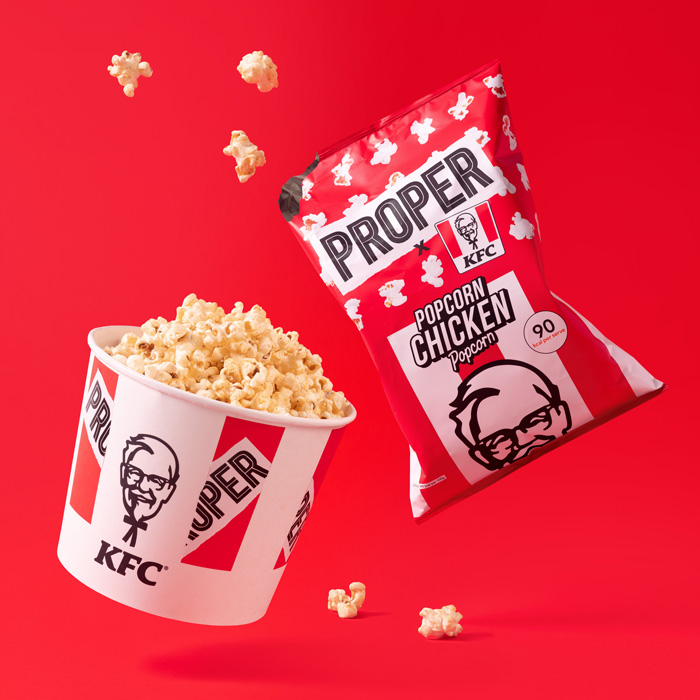 Made for 'cornoisseurs' everywhere, the latest variant brings the iconic popcorn chicken to supermarket shelves by uniting PROPER Snacks' classic butterfly popcorn and KFC's world-famous blend of herbs and spices, sprinkled over popcorn for a bold chicken-y, herby snack that hits the spot.
Available at retailers nationwide from last week, the new limited-edition packs celebrate a blend of two of the ultimate comfort foods – fried chicken and popcorn. The new packs cater to snackers looking for irresistible treats as PROPER Snacks continues to lead the industry – driving 69% of the popcorn category growth. 
As with all flavours in the PROPERCORN range, Popcorn Chicken Popcorn is vegan, gluten-free and made using all-natural seasonings, perfect for on-the-go snacking or the big night in.
PROPERCORN Popcorn Chicken Popcorn is 90kcals per serving and is HFSS compliant, seasoned with natural flavours and has absolutely no palm oil.
The limited-edition PROPER x KFC product will launch in Co-op from the 23rd of August 2023, followed by a release in Tesco, Sainsbury's and Asda in the following weeks. Sharing packs, RRP £1.80 / 70g and available in single packs RRP £1.00 / 20g.
Tags:
Gluten-Free Products
,
Gluten-Free Snacks
,
Products
,
Snack Bars