Rose Falooda Bites
Falooda is a typical Indian dessert made from sweet thickened milk – in this case almond milk – and textured with a tasty, crunchy garnish.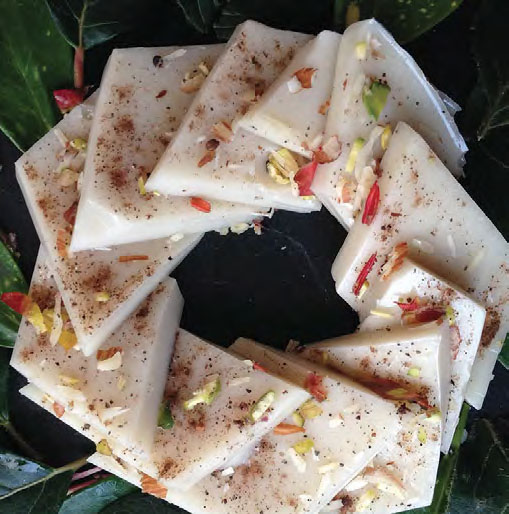 By Mira Manek.
This recipe is gluten-free, dairy-free, refined sugar-free, egg-free and vegan.
Ingredients | Makes about 15 pieces
300ml (10fl oz) almond milk
1 tsp agar-agar powder
4 tbsp agave syrup
¼ tsp rose extract
To Garnish:
rose petals
a pinch of cardamom powder
almond and pistachio pieces, finely chopped
Method:
Boil the almond milk in a pan on a low heat. Mix the agar-agar in 1 tbsp water, then add to the almond milk while it is boiling. Keep stirring as the milk thickens (about 5-10 minutes).
Add the agave syrup and rose extract and mix well.
Pour the mixture into a shallow plate or individual dessert bowls. Leave for a few minutes. Before it starts to set, garnish with torn rose petals, a sprinkling of cardamom powder and the almond and pistachio pieces. Leave in the fridge to set for 30-45 minutes before eating. Using a knife, cut into diagonal pieces and serve.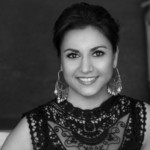 About the author: Mira Manek is a journalist and writer with a passion for health and wellbeing. Her book Green Daal Stories focuses on adapting some of her family's Gujarati vegetarian dishes, to ensure they are nutritious, low in carbohydrates and high in protein. For more recipes and info on the release of Mira's book go to: www.miramanek.com or @miramanek on Twitter.
Check out more delicious gluten-free recipes and vegan recipes! For even more, grab a copy of the magazine.
Tags: Dairy-Free, Dairy-Free Dessert, Egg-Free, Gluten-Free, Gluten-Free Dessert, Paleo Dessert, Recipes, Sugar-Free Dessert, Vegan, Vegan and Gluten Free, Vegan Dessert