Win a choice of 6 packs of cookie dough!
Win a choice of 6 packs of cookie dough from Doughlicious!
Doughlicious, the London-based award-winning gourmet cookie dough brand, has launched exciting new flavour combinations and packaging. Doughlicious cookie dough bakes warm and gooey or crispy (you decide!) from chilled/frozen in 8-14 minutes.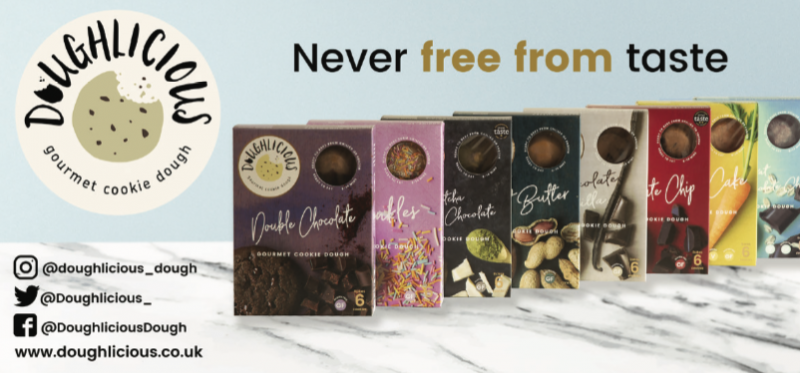 Doughlicious has perfected its existing recipes such as Chocolate Chip, decadent Double Chocolate, exotic Matcha and smooth Peanut
Butter, while adding dreamy chocolate & Vanilla, Chunky Oat Chocolate Chip, Sprinkles and Vegan Carrot Cake to its core and organic range.
For more information, visit www.doughlicious.co.uk.
For your chance to win a selection of these delicious treats, click 'Enter Here' and answer the simple question below…
Where are Doughliicous based?
a) London
b) Bristol
c) Manchester
Competition now closed
Competition T&Cs: To be in with a chance of winning, simply submit your answer and details using the form above. Some prizes will be arranged with the winner after the competition has ended. Competition winners address and contact details will be sent to competition providers. These are needed for delivery purposes and will be deleted after being sent out. By ticking the newsletter box you will be automatically be added to the Gluten-Free Heaven email newsletter list, keeping you informed of news, special offers and promotions via email. Anthem Publishing will not pass on customer email addresses to any other companies. You may unsubscribe from these messages at any time. The editor's decision is final. The competition is open to UK residents over 18 only. Winners will be notified by email and will have five days to claim their prize before it is passed on to the runner-up. The full competition T&Cs can be found here on the Anthem Publishing website. Closing date 26th January 2020.
Tags:
Competition