WIN! A pack of Human Food nutrition bars – worth £33.00 each!
We've teamed up with Human Food to give you the chance to win one of 100 packages filled with their Daily Nutrition Bars!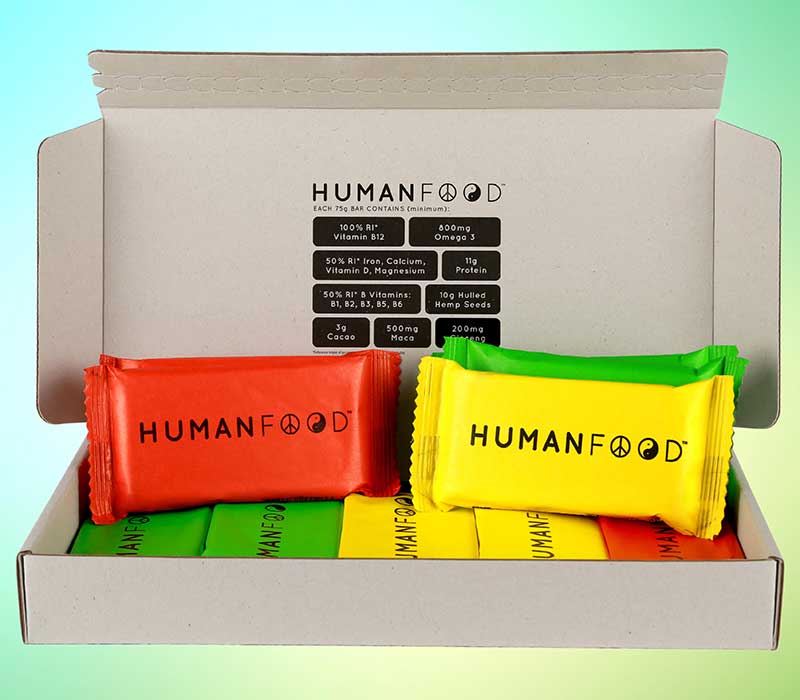 Human Food is a new kind of product, a Daily Nutrition Bar which replaces synthetic supplements with real, organic, wholefood vitamins and minerals. Specifically designed for those on a vegan or vegetarian diet, each bar contains 100% RI of vitamin B12, along with a number of other vitamins and minerals which can be hard to obtain from a plant-based diet, and all in wholefood form.
The ingredients used in Human Food's Daily Nutrition Bars are 100% certified organic, and the product is the first of its kind to be certified EU organic. Human Food is a passionate advocate of organic standards in production – better for the environment, and for wildlife – and of the benefits for the individual of eating organic foods which have been shown to contain higher levels of nutrients vs non-organic.
Human Food is made for a more reasonable, more sustainable future; all packaging is plastic free and is and biodegradable / compostable / recycled / recyclable. And all orders are delivered by carbon-neutral courier.
All Human Food Daily Nutrition Bars are made of 100% organic wholefoods and wholefood extracts, and contain no additives, no added sugar, no preservatives and no synthetic nutrients. They are available in three delicious and satiating editions: A fruity Red Bar, with organic Goji Berries for detox, a more subtle Yellow Bar, infused with organic, mood-enhancing Turmeric which also aids recovery, and a power-packed Green Bar, containing organic Spirulina which reduces cholesterol and fights allergies.
All HF bars also contains:
100% RI Vitamin B12 – Human Food's Organic Daily Nutrition Bars are the only products in the world to contain 100% organic, whole food-derived (rather than synthetic) vitamin B12.
50% RI Iron, Calcium, Magnesium, and Vitamins B1, B2, B3, B5, B6 and D
11g Protein
800mg Omega 3
500mg organic Maca
200mg organic Ginseng
3g organic Cacao
Other essential vitamins, minerals and nutrients, including: Potassium, Phosphorus, Copper, Zinc, Manganese, Vitamin E, Vitamin C, Folic Acid, Omega 6 and Omega 9.
Human Food's Organic Daily Nutrition Bars are the world's most nutritionally-dense organic food and are designed to provide a solid nutritional base from which it's easily complete an optimal, healthy, plant-based diet, without the need for synthetic supplements.
Each bar is made of 20 organic whole foods and whole food extracts, which have been carefully selected and combined to provide maximum benefit. HF bars also contain a range of functional ingredients that can help to improve cognitive function, increase stamina and focus, and support overall health and wellbeing.