Chicken & fig tagine
Full of the tastes of North Africa, this simple chicken and fig tagine recipe will transport you away to warmer climes this winter!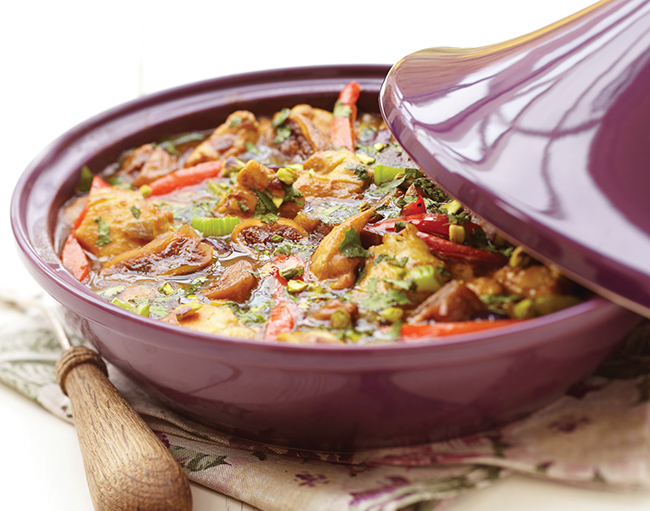 Chicken & fig tagine
By Lakeland (www.lakeland.co.uk)
Serves 4 | Prep 20 mins | Cook 55 mins | Calories 584 (per serving)
GF SF DF EF
Ingredients
1 tbsp olive oil
1kg (2lb 2oz) boneless chicken thighs, chopped
1 red onion, peeled, chopped finely
1 celery stick, chopped
2 garlic cloves, peeled, crushed
1 tsp ground cumin
1 tsp ground coriander
1 tsp ground ginger
1 tsp ground cinnamon
1 tsp ground turmeric
500ml (18fl oz) gluten-free chicken stock
150g (5½oz) dried figs, sliced thickly
1 medium red pepper, chopped coarsely
1 tsp finely grated lemon zest
3 tsp fresh coriander, coarsely chopped
35g (1½oz) roasted, unsalted pistachios, coarsely chopped
Method
Heat the oil in a large saucepan and cook the chicken in batches until browned, then remove from the pan.
Add the onion, celery, garlic and spices to the pan, then cook, stirring, until the onion softens.
Return the chicken to the pan; stir to coat in the spice mixture. Add the stock and bring to the boil.
Transfer to a tagine on a heat diffuser. Reduce heat and simmer, covered, for about 30 minutes, or until the chicken is almost cooked.
Add the figs, pepper and lemon zest to the tagine; simmer, uncovered, for about 15 minutes or until the sauce thickens slightly. Stir in the fresh coriander and sprinkle with nuts before serving.
Tags:
Chicken
,
Dairy-Free
,
Dairy-Free Dinner
,
Dairy-Free Recipes
,
Egg-Free
,
Gluten-Free
,
Gluten-Free Dinner
,
Gluten-Free Recipes
,
Recipes
,
Sugar-Free Dinner
,
Sugar-Free Recipes