Chocolate chip & peanut butter cookies
It's hard to believe it takes just five ingredients to make these delicious gluten-free, dairy-free and vegan chocolate chip and peanut butter cookies!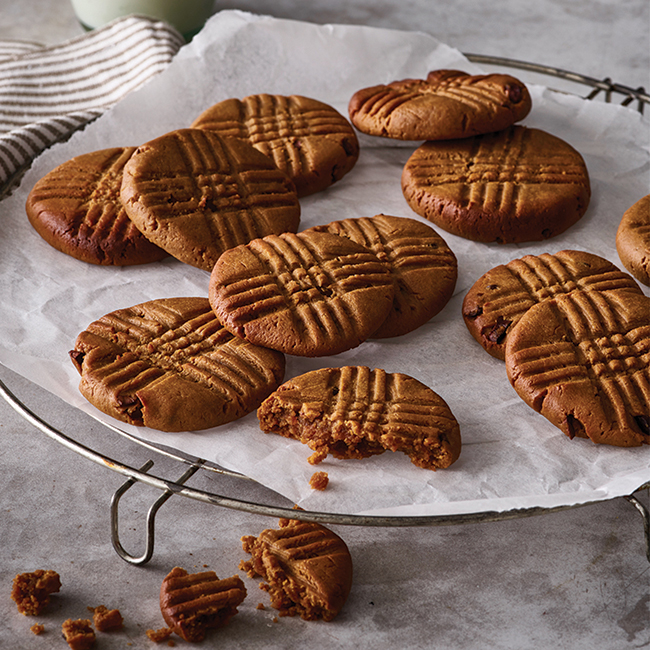 Chocolate chip & peanut butter cookies
By Lakeland (www.lakeland.co.uk)
Serves 12 | Prep 20 mins plus chilling | Cook 10-12 mins | Calories 185 (per serving)
GF DF EF V MF
Ingredients
125g (4½oz) peanut flour
60g (2oz) dairy-free spread
100g (3½oz) peanut butter
100ml (3½fl oz) agave nectar
25g (1oz) cocoa nibs
Method
Preheat the oven to 160ºC/Gas Mark 3. Place the peanut flour into a mixing bowl and rub in the dairy-free spread with your fingertips, until the mixture resembles fine breadcrumbs. Add the remaining ingredients and mix well.
Bring the cookie dough together with your hands and form into a large sausage shape, around 6cm (2in) in diameter. Wrap in clingfilm and chill for 30 minutes.
Slice the dough into 12 discs and place on a baking sheet. Press each cookie lightly with a fork.
Bake for 10-12 minutes, or until the cookies are golden brown but soft to the touch. Cool on a wire rack.
Tip
These cookies will keep in an airtight container for up to five days. The peanut flour gives these cookies a distinctive, dark colour. If you prefer a thinner, crisper cookie, shape the dough into an 8cm (3in) diameter sausage and cut into 16 cookies. For a more rustic appearance, shape the dough into balls, place on the baking sheet and flatten with a fork before chilling.
Tags:
Biscuits
,
Chocolate
,
Cookies
,
Dairy-Free
,
Dairy-Free Dessert
,
Dairy-Free Recipes
,
Egg-Free
,
Gluten-Free
,
Gluten-Free Baking
,
Gluten-Free Dessert
,
Gluten-Free Recipes
,
Nuts
,
Vegan
,
Vegan and Gluten Free
,
Vegan Dessert
,
Vegan Recipes