Christmas Protein Snowballs
We may not get a white Christmas this year, but you can still have fun with snowballs with this tasty recipe!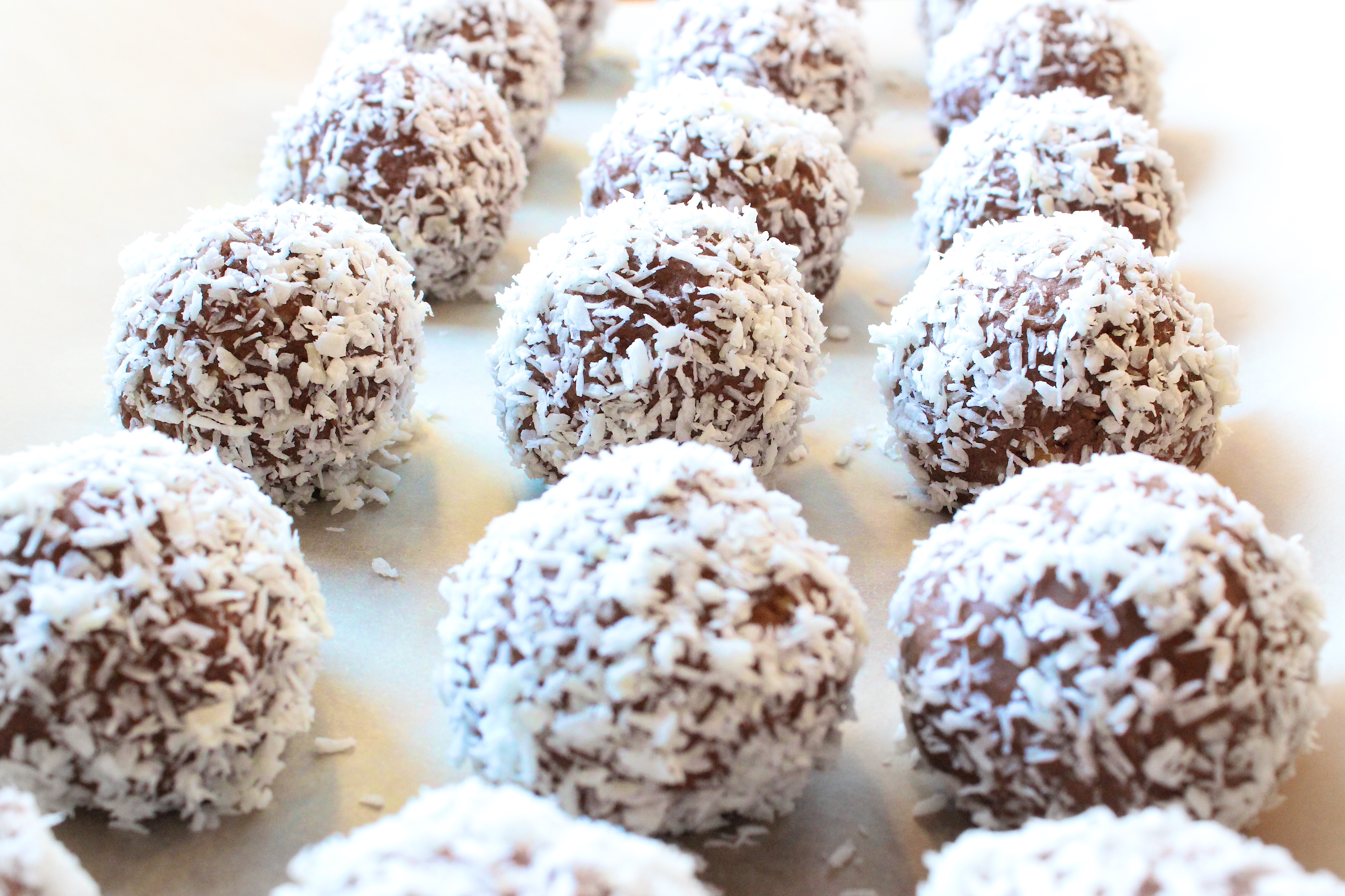 Christmas Protein Snowballs
By Ross Edgley (rossedgley.com)
Christmas is a time of festive food and (often) not as much fitness. I'm not saying that's a bad thing, for many it's the only time beloved family and friends can all sit around one table and share a glass of wine (or two). But if you're one of those people worried about your diet going astray it might be worth having a few Protein Snowballs tucked away in the fridge. A protein-packed snack made using whey protein chocolate protein powder, this is so easy to make. Absolutely no cooking is required! You just need to be prepared to get your hands a little dirty and wait long enough for them to freeze.
I've been making (a vegan snack version of) these every night ready for the next day's post-workout feed (often mixed with protein granola, chia seeds and nut butter) and although they take a little more time to make than TPW™'s pre-made protein balls, they are worth the wait.
Nutritional value: Per protein Snowball  
Calories – 46 | Protein – 4.25g | Carbohydrates – 2.7g | Fat – 1.8g
GF SF EF MF
Ingredients
30g Cocoa Powder
30g Coconut Flour
1 pinch of sweetener (I use Stevia)
75ml Almond Milk
15-20g Desiccated Coconut
Method
1. Mix together the first 5 ingredients listed until incorporated
2. Shape into 12 balls in the palm of your hand
3. Spread desiccated coconut onto a plate and roll the balls in the coconut
4. Freeze until set, then pop in the fridge until you want to eat them!
How the Protein Snowballs work 
Protein is a macronutrient. What this means is (like carbohydrates and fats) we need them in large quantities in the diet. But for those who know how to use the power of the protein for their diet, Protein Snowballs could be a great tool to have in your nutritional arsenal. This is because studies show it can keep you satiated and feeling fuller for longer.
What's more, scientists found that different proteins have different fat loss properties. For instance, a study published in the American Journal of Clinical Nutrition took 23 healthy lean adults and gave them meals consisting of whey protein, casein protein and soy protein. The thermic effect of each meal (so the amount of calories it takes to digest the protein) was then measured before and again 5.5 hours after their consumption. The study found that the thermic effect of the whey protein was higher than both the casein and soy protein. In short protein (and more specifically Protein Snowballs) could be the most diet-friendly snack you have in your fridge this Christmas.
About the author: 
Ross is a decorated expert in the fitness industry, and a vegan! For over 10 years he's been involved in every area of sport, fitness, and nutrition imaginable. He started as an international athlete playing water polo for Great Britain but later moved into the academics of sport and graduated from the world renowned Loughborough University School of Sport and Exercise Science. Ross is also co-founder at what is considered the UK's most innovative sports nutrition company The Protein Works.
Tags:
Chocolate
,
Christmas
,
Gluten-Free
,
Gluten-Free Christmas
,
Gluten-Free Dessert
,
Gluten-Free Recipes
,
Sugar-Free Dessert