Coffee, maple & walnut cake
This timeless classic, a coffee and walnut cakes, gets a gluten and dairy-free makeover, so now you can really have your cake and eat it too!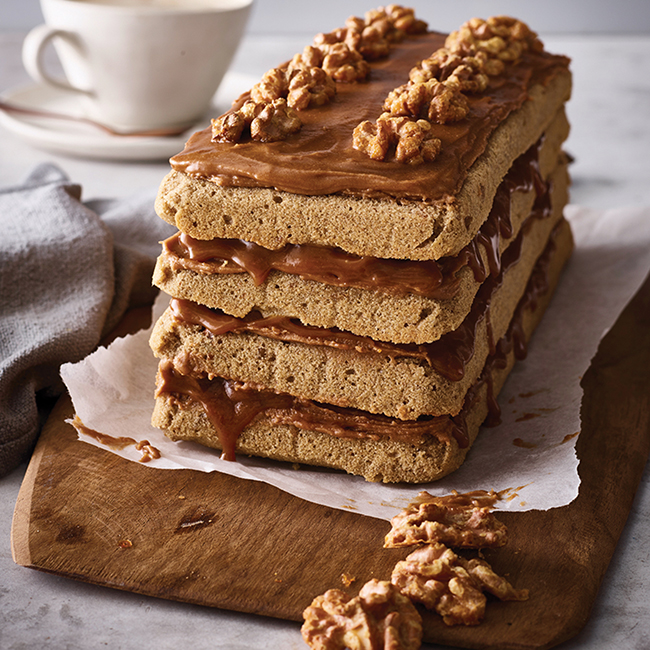 Coffee, maple & walnut cake
by Lakeland (www.lakeland.co.uk)    
Serves 8 | Prep 30 mins | Cook 12-15 mins | Calories 927 (per serving)
GF DF MF
Ingredients
For the cake:
4 free-range eggs
400g (14oz) dairy-free spread
180ml (6fl oz) pure maple syrup
400g (14oz) buckwheat flour
2 tbsp Nielsen-Massey Coffee Extract
100g (3½oz) walnuts, chopped
For the icing:
150g (5½oz) lucuma powder
250ml (8½fl oz) coconut butter
2 tbsp pure maple syrup
2 tbsp Nielsen-Massey Coffee Extract
To decorate:
12 walnut halves
2 tbsp pure maple syrup
Method
1 Preheat the oven to 180ºC/Gas Mark 4. Separate the eggs and whisk the whites in a bowl until they form stiff peaks.
2 In a separate mixing bowl, cream together the dairy-free spread, maple syrup, egg yolks, flour and coffee extract until the mixture is smooth. Using a metal spoon, gently fold in the egg whites and walnuts.
3 Divide the mixture evenly between a set of Wilton Easy-Layer loaf tins, level out the surfaces and bake for 12-15 minutes, or until a skewer inserted into one of the cakes comes out clean. Leave to cool for 5 minutes in the tins before cooling on a wire rack.
4 Meanwhile, place all the icing ingredients into a food mixer and beat until smooth.
5 To make the decoration, toss the walnuts in the maple syrup, place on a baking sheet and bake for 5-6 minutes, or until the walnuts are golden brown. Leave to cool.
6 To assemble the cake, place one layer onto a serving dish and spread or pipe one quarter of the icing over the cake. Place another cake on top and repeat, finishing with a layer of icing on the very top. Decorate with the maple walnuts.
Tip
The Wilton loaf tins have a non-stick finish, so there is no need to grease or line them. This cake is best eaten on the day it is made, but will keep for several days in an airtight container.
Cook's Note
To make a delicious lemon cake, swap the maple syrup for agave nectar, and replace the coffee extract and walnuts with the grated zest and juice of two lemons. Make lemon icing by swapping the maple syrup and coffee extract for the zest and juice of one lemon.
For a chocolate cake, leave out the coffee essence and walnuts, replace the maple syrup with agave nectar and swap 100g (3½oz) of the flour for cocoa powder. To make the icing, add 25g (1oz) cocoa powder and swap the maple syrup and coffee extract for 75ml (2¾oz) agave nectar. To decorate, sprinkle with organic cocoa nibs.
Tags:
Dairy-Free Dessert
,
Dairy-Free Recipes
,
Gluten-Free Cake
,
Gluten-Free Dessert
,
Gluten-Free Recipes