Fig and Almond Cake
A spongy and moist cake topped with a little sugar for extra crunch. This fig and almond cake looks as gorgeous as it tastes, and be can served on its own or with an ice cream of your choice for a truly decadent treat.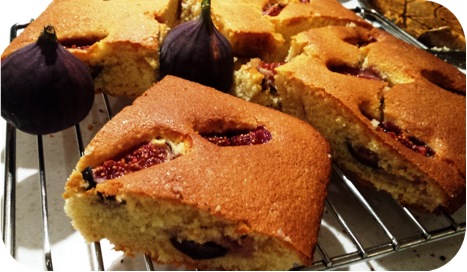 Fig and Almond Cake
By Brinda Bungaroo (www.brindabungaroo.com)
Serves 6-8| Prep 15 mins | Cook 30-45 mins|
GF
Ingredients:
4 – 6 ripe figs – cut into quarters
250 grams unsalted butter (room temperature)
250 grams sugar
4 eggs
150 grams gluten free flour
150 grams ground almond
2 teaspoons gluten free baking powder
4 tablespoons milk
Demerara sugar (to sprinkle on the top before baking)
Method:
Preheat the oven 180 C (350 F). Line a 20cm – 2cm square cake tin with baking parchment and brush with butter.
Cut the figs into quarter; leave aside while you start the rest of the preparation.
Using an electric mixer, mix butter and sugar until light and creamy. Add the eggs, one at the time, and mix well.
Sift the flour and baking powder together, mix in the ground almond. Start by adding the dry ingredients into the egg and butter mix, followed by some of the milk.
Continue this until you have incorporated all the dry ingredients. Do not overwork the mixture, yet making sure all is well mixed.
Spread the batter in the prepared baking tin.
Arrange the figs quarters on the batter mix, using your finger just push them a little down into the cake mixture. Sprinkle with a little Demerara sugar.
Bake in oven, 180 C (350 F) for 30-45 minutes.
Ready when a cake tester comes out clean.
Serve either on its own or with a few scoops of ice-cream. Can also be served with a dollop of fresh cream……sheer indulgence.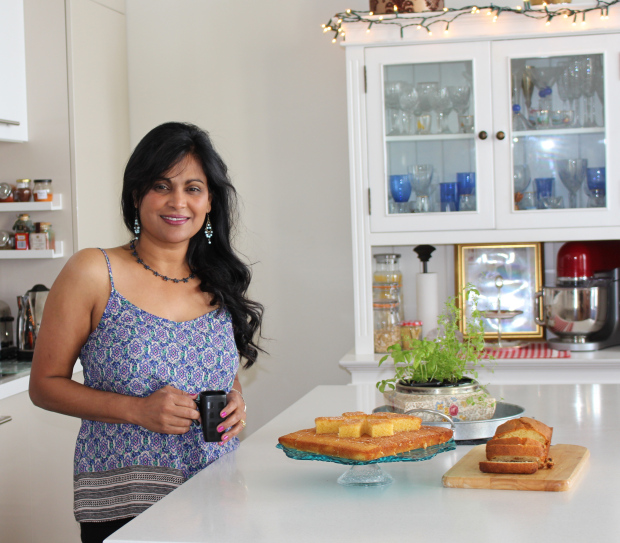 About the author: Brinda is a passionate foodie who loves eating, cooking and entertaining families and friends. Her main inspirations are her parents, as her mum taught her how to cook, and her dad how to appreciate food. All of her recipes are made with a dashing of love, fond memories, a heart full of passion – all blended together to create mouth-watering delights. To see more of Brinda's recipes, please visit her blog, or get in touch with her on Facebook or Twitter.
Tags:
Gluten-Free Dessert
,
Gluten-Free Recipes