Garlic chilli prawns with green beans
The fresh chilli in this sweet and sticky dish gives the succulent king prawns a fiery kick. A perfect flavour-packed lunch or lovely light dinner served with a chilled glass of white wine.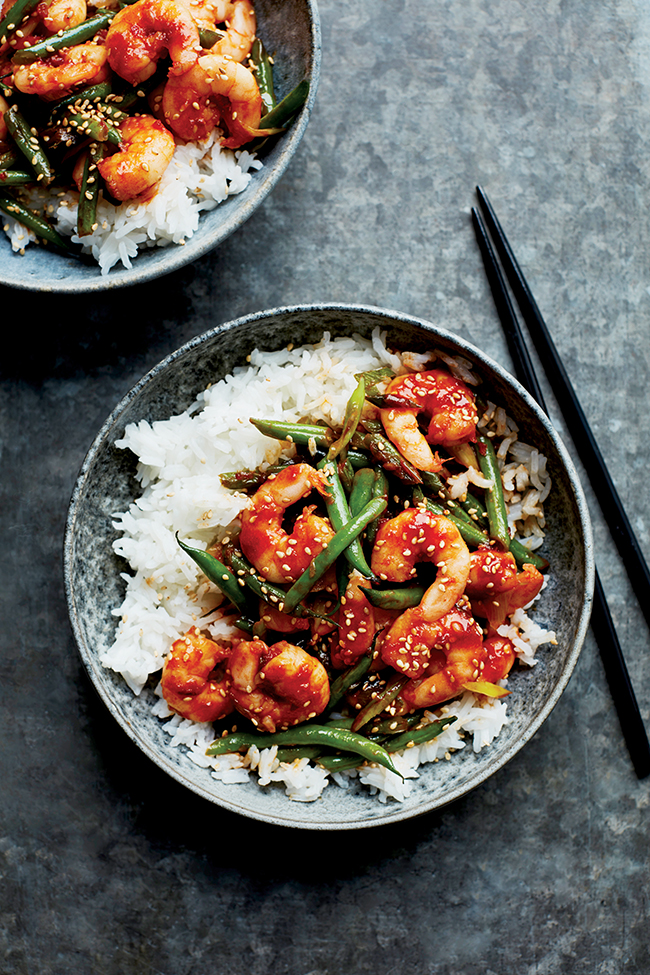 Gluten-free garlic chilli prawns with green beans
By Waitrose (www.waitrose.com)
Serves 2 | Prep 10 mins | Cook15 mins | Calories 330 (per serving)
Ingredients
120g (4oz) jasmine rice
180g (6oz) Waitrose Extra Large King Prawns
1 tsp tomato purée
½ tsp chilli flakes
1 tsp Chinese rice vinegar
1 tsp honey
1 tsp toasted sesame oil
1 tsp reduced-salt gluten-free soy sauce

1½ tbsp vegetable oil

200g (7oz) fine green beans, trimmed, halved
1 salad onion, sliced
1 garlic clove, peeled, crushed
1 tsp finely grated fresh root ginger
1 tsp sesame seeds, toasted
Method
Cook the rice according to the pack instructions, drain and set aside. Pat the prawns dry on kitchen paper. In a small bowl mix the tomato purée, chilli flakes, vinegar, honey, sesame oil and soy sauce.

Heat a large wok over a high heat and add the vegetable oil, beans, onion, garlic and ginger. Stir-fry for 30 seconds, then add the prawns and fry for another minute. Tip in the tomato purée mixture and fry for another 2 minutes until everything is coated and the prawns are cooked through.

Divide the rice between bowls, top with the prawns and beans and sprinkle with sesame seeds to serve.
TIP
The cooking time is very short for this recipe, so make sure all your ingredients are prepared in advance.
Tags:
Fish
,
Gluten-Free
,
Gluten-Free Dinner
,
Gluten-Free Recipes