Gluten-free beef Wellington recipe
This gluten-free beef Wellington recipe is a delicious gluten free version of a classic recipe. The perfect centrepiece for any special occasion.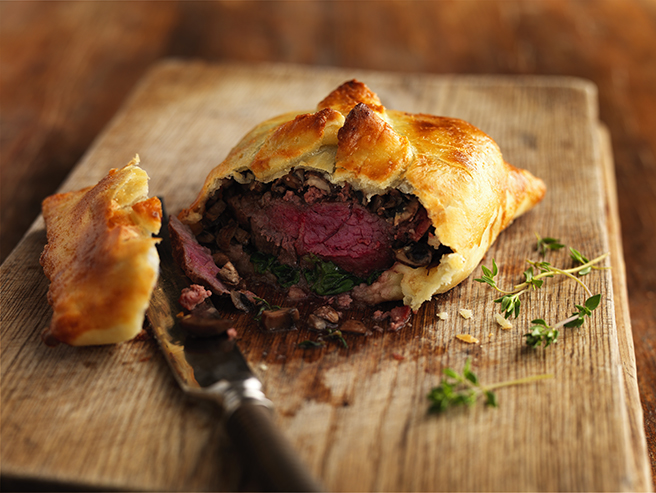 Gluten-free beef Wellington recipe
Serves: 2
Ingredients
For the puff pastry:
110g frozen, salted butter
50ml cold water
1tsp lemon juice
For the filling:
150g mushrooms, finely chopped
1tbsp fresh thyme, chopped
1tsp olive oil
2 x 150g fillet steaks
50g chicken liver pâté
A handful of spinach leaves
1 medium egg, beaten
Method
Before you begin, make sure the butter has been frozen for at least 2 hours.
Place the Schär Mix It! Universal in a bowl and grate in the frozen butter. Stir around to coat the butter in the flour.
Pour in the cold water and lemon juice and mix with a knife to combine. Then, gently bring together the ingredients into a rough dough ball with your fingers. Cover with cling film and rest for at least 1 hour in the fridge.
Pre-heat the oven to 220°/200°C Fan/Gas Mark 7.
Season the fillet steaks with sea salt and cracked black pepper. Add some oil to a pan and seal the steaks on both sides and edges. Take out of the pan and leave to cool.
Add some more oil to the same pan and cook the mushrooms and thyme over a medium heat for 5 minutes, or until golden brown. Remove from the pan, and leave to cool along with the steaks.
Dust the work surface with Schär Mix It! Universal and cut the pastry in half.
Place one half of the pastry on the work surface and roll out to form a rectangular parcel, larger than the size of your fillet steak.
For each parcel, divide the mushrooms in half and place in a steak-size rectangle, 1/3rd of the way down the pastry.
Smooth half the pâté over one side of a steak and place, pâté-side up, on the mushrooms. Add a layer of spinach leaves.
Brush the exposed pastry with the beaten egg, then take the long side and fold tightly over the steak.
Trim the pastry and crimp the sides really well to seal. Brush all over with the remaining egg, and chill for 10 minutes.
Repeat with the second parcel.
Bake both parcels in the oven for 10 minutes, and then increase the oven temperature to 230°/210°C Fan/Gas Mark 8 for a further 10 minutes (or for 12-15 minutes if you like your steak well done).
Rest for 5 minutes before serving.
Note: All cook times are approximate.
Comments
Tags:
Gluten-Free
,
Gluten-Free Christmas
,
Gluten-Free Dinner
,
Gluten-Free Recipes
,
Meat
,
Pastry
,
Puff Pastry