Gluten-free 'Boxing Day' pizza
A simple and delicious gluten-free pizza, made using the Christmas leftovers. Ideal for a quick dinner or as part of a Boxing Day buffet.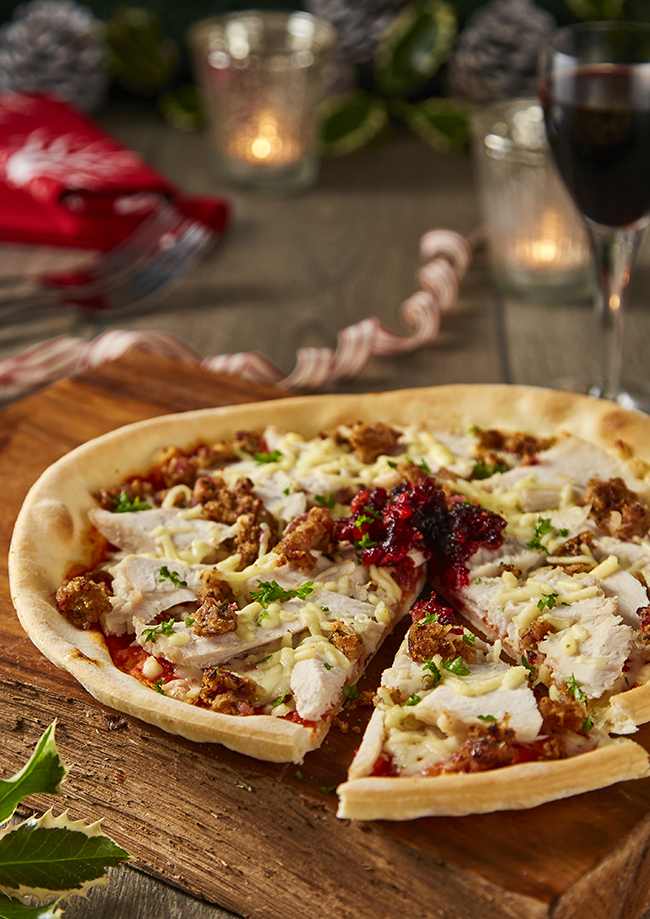 Gluten-free Boxing Day pizza
Preparation time: 5 minutes | Cooking time: 8 minutes
Ingredients
For the stuffing or topping:

12g butter
1 small onion, chopped
1 stick of celery, chopped
2tbsp fresh parsley OR 2tsp dried parsley
25g ready to eat apricot, chopped
50ml fresh orange juice
2tbsp gluten-free cranberry sauce
25g walnuts OR pine kernels, chopped (optional)
Method
To make the stuffing or topping:
Pre-heat the oven to 190°C /170° fan/ Gas Mark 5.
Place the Schär Wholesome Seeded Loaf into a blender and blitz until it resembles breadcrumbs. Place the breadcrumbs in a bowl.
Melt the butter, fry the onion and celery until soft and very lightly browned, and add to the breadcrumbs.
Mix in the parsley, apricots, and nuts (if using) and season. Pour in the orange juice and stir in the gluten-free cranberry sauce.
Bring the mixture together, make into 6-8 stuffing balls, and cook for 20 minutes.
Pizza preparation:
Pre-heat the oven to 220°C/200°C fan/Gas Mark 7.
Top the pizza with turkey slices, crumble over the stuffing balls and sprinkle with mozzarella.
Cook for 7-8 minutes, or until the cheese has melted.
Serve with a dollop of cranberry sauce.
Christmas
,
Gluten-Free Christmas
,
Gluten-Free Dinner
,
Gluten-Free Pizza
,
Gluten-Free Recipes
,
Recipes