Gluten-free carrot cake
This recipe makes the most deliciously moist carrot cake – no one will believe it is gluten-free!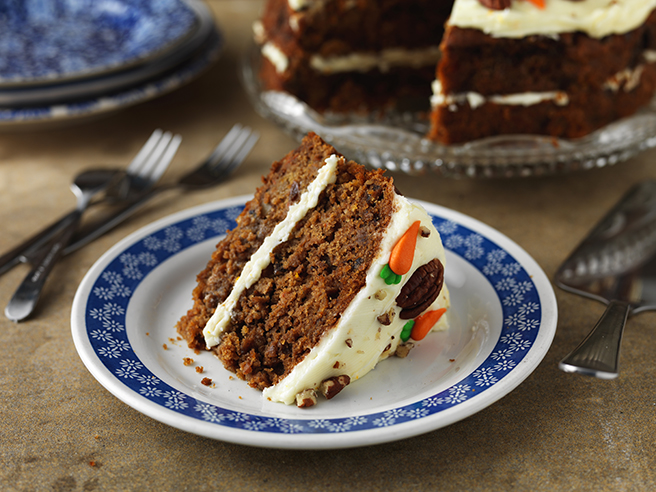 Gluten-free carrot cake
Servings: 8 | Preparation time: 60 minutes | Cooking time: 75-90 minutes
Ingredients
For the cake:

100g cooking apples; peeled, cored and sliced
250g carrots, grated
85g raisins
4tbsp orange juice (save zest for icing)
200g brown or Muscavado sugar
2tsp gluten free baking power
1tsp baking soda
2tsp mixed spice
50g pecans, roughly chopped
175ml sunflower oil
4 eggs, beaten
For the icing:
115g full fat cream cheese
50g butter
300g icing sugar
The zest of one orange
For the decorations:
Pecan or walnut halves
Sugar carrots
Crushed Brazil nuts
Method
Pre-heat the oven to 170°/150°C Fan/Gas Mark 3.
Place the sliced apple, carrot, raisins and orange juice in a large dish. Cover and microwave for 4 minutes to soften the apple and carrot. Mash lightly with a fork and allow to cool.
Place all the dry ingredients in a large bowl. In a separate bowl, beat together the oil and eggs then add to the dry ingredients along with the cooled carrot mixture. Beat together with a wooden spoon.
Pour into a lightly buttered tin which has been base-lined with baking parchment (we recommend a round, 20cm wide tin). Bake for approximately 1¼ -1 ½ hours, or until the cake is firm to the touch and golden. Once removed from the oven, let the cake cool in the tin.
Beat the icing ingredients together and spread onto the cake top and sides or cut in half and spread in the middle and on top. Decorate with pecan or walnut halves, crushed nuts and sugar carrots.
Gluten-Free
,
Gluten-Free Cake
,
Gluten-Free Dessert
,
Gluten-Free Recipes
,
Recipes