These savoury gluten-free muffins are perfect for breakfast or brunch. Sprinkle parmesan on top for added cheesy flavour.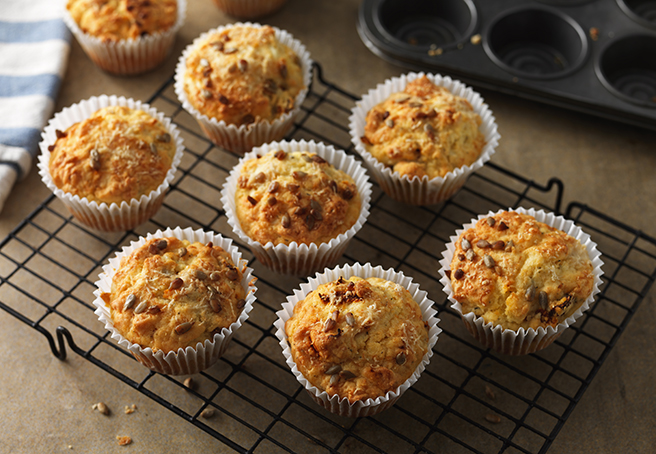 Gluten-free cheese & sun-dried tomato muffins
Servings: 9 muffins | Preparation time: 15 minutes | Cooking time: 25 minutes
Ingredients
1tbsp baking powder
1tsp mixed herbs, dried
100g matured cheddar cheese, grated
50g sun-dried tomatoes, chopped
85g salted butter
150g 3.5% fat natural yoghurt
2 medium eggs
Parmesan cheese, grated, for sprinkling
Method
Pre-heat the oven to 190°/170˚C Fan/Gas Mark 5. Put 9 muffin cases in a muffin tray.
Sieve the Schär Mix It! Universal and baking powder into a bowl, stir in the mixed herbs, grated cheddar cheese and chopped sundried tomatoes.
Melt the butter, and then lightly beat it together with the yoghurt and eggs. Stir until all the ingredients are mixed together.
Add the yoghurt mixture to the flour mix and carefully fold in. Do not over mix.
Place 2 dessert spoons of mixture into the cases. Sprinkle with parmesan cheese. Bake in the pre-heated oven for approximately 25 minutes until golden brown.
Leave in the tin for 5 minutes before transferring to a cooling rack. Delicious warm or cold, why not make a batch and grab them in the morning for a tasty breakfast on the go!