This sweet and sticky gluten-free orange chicken recipe is sure to beat a Chinese takeaway!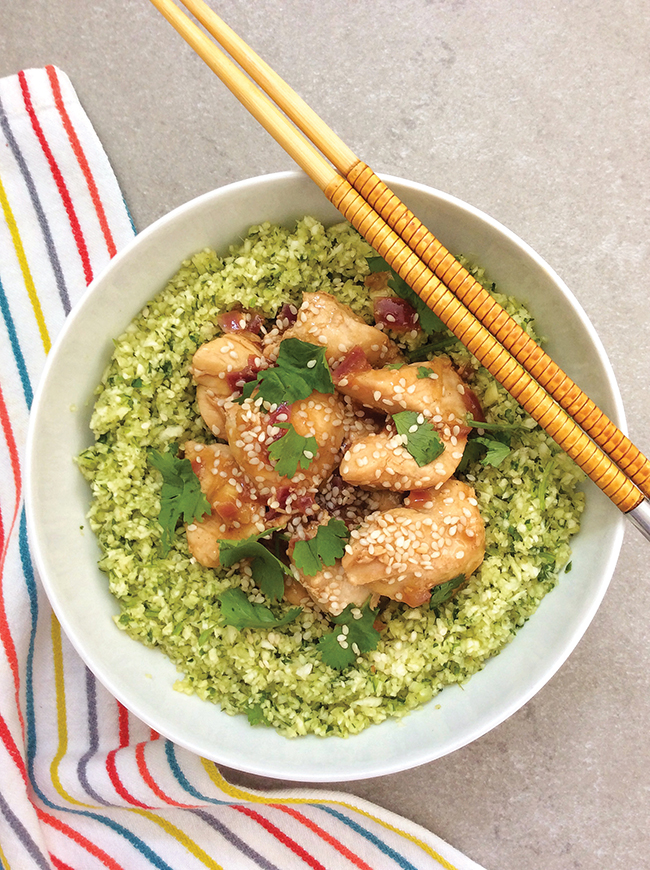 Sticky orange Chinese chicken
By Angela Warren (www.imperfectly-paleo.blogspot.co.uk)   

Serves 2-3 | Prep 20 mins | Cook 20 mins | Calories 354 (per serving)
GF DF EF
Ingredients
400g (14oz) skinless, boneless chicken (breast or thigh as preferred), cut into bite-sized chunks
1 small onion, peeled, finely diced
2.5cm (1in) piece of ginger, peeled and grated
1 garlic clove, peeled and minced

½

tbsp coconut oil
2-3 tbsp tamari (or coconut aminos)
1 tbsp honey

½

tbsp pomegranate molasses (or just add extra honey)
3 tbsp freshly squeezed orange juice
2 tbsp rice vinegar
1 tbsp sesame oil
1 tbsp arrowroot flour and a splash of water
To garnish:
toasted sesame seeds
chopped coriander leaves
Method
In a small bowl, whisk together 2 tbsp tamari, honey, pomegranate molasses, orange juice, rice vinegar and sesame oil. Set aside.
Heat the coconut oil in a heavy-based pan over medium to high heat.
Add the onion, garlic and ginger and saut

é

for 1-2 minutes, stirring constantly, until fragrant and softened.
Add the chicken and continue to stir-fry until brown on all sides.
Pour the sauce into the pan and continue to stir, coating the chicken. Reduce the heat to medium so the sauce is not bubbling too ferociously.
While the chicken cooks, make a slurry by mixing the arrowroot flour with a splash of water until smooth, then pour into the pan, stirring continuously to prevent lumps. The sauce will thicken almost instantly. Lower the heat to a gentle simmer for a few more minutes and check the chicken is cooked through.
Adjust for seasoning if required with extra tamari and a pinch of salt and pepper.
Serve on a choice of rice or riced vegetables and sprinkle over sesame seeds and coriander before serving.
---
About the author

Angela Warren is passionate about real food, health and fitness. She loves to cook, eat, share and laugh and shares her recipes on her blog, Imperfectly Paleo.