Gluten-free crêpes
Crêpes are a quick and tasty treat that can be enjoyed all year round, so why wait until Pancake Day?  Delicious sprinkled with sugar and a good squeeze of lemon juice. if you're feeling adventurous you could also top them with cheese and ham for a savoury treat.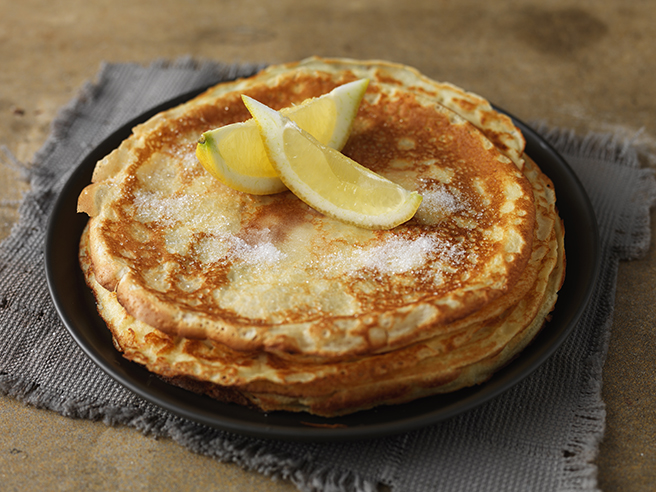 Gluten-free crêpes
Servings: 7 pancakes | Preparation time: 15 minutes | Cooking time: 15-20 minutes
GF V MF
Ingredients
1 pinch of salt
2 medium eggs
200ml semi-skimmed milk
50ml water
a little bit of vegetable oil for frying
To serve:

Method
Combine the Schär Mix It! Universal and salt in a bowl.
Beat in the eggs and half the milk until well combined. Gradually whisk in the remaining milk and water and then leave to stand for 10 minutes.
Lightly coat the base of a 20-23cm frying pan with oil and place over a moderate heat.
When the pan is hot, pour in enough batter to thinly cover the base. Cook over the heat until the pancake is set and moves freely in the pan. Flip the pancake and cook on the reverse side until golden. Repeat with the remaining mixture.
Serve with a sprinkle of caster sugar and a good squeeze of lemon juice.
Gluten-Free
,
Gluten-Free Breakfast
,
Gluten-Free Recipes
,
Pancakes
,
Recipes