Gluten-Free Halloween Cupcakes
With the 31st October nearly upon us, spooky party planning will be in full flow. These cupcakes by Udi's Gluten Free are terrifyingly easy to make using the All Purpose Flour. We've even got some insightful cooking tips to make sure you have a scream, this Halloween.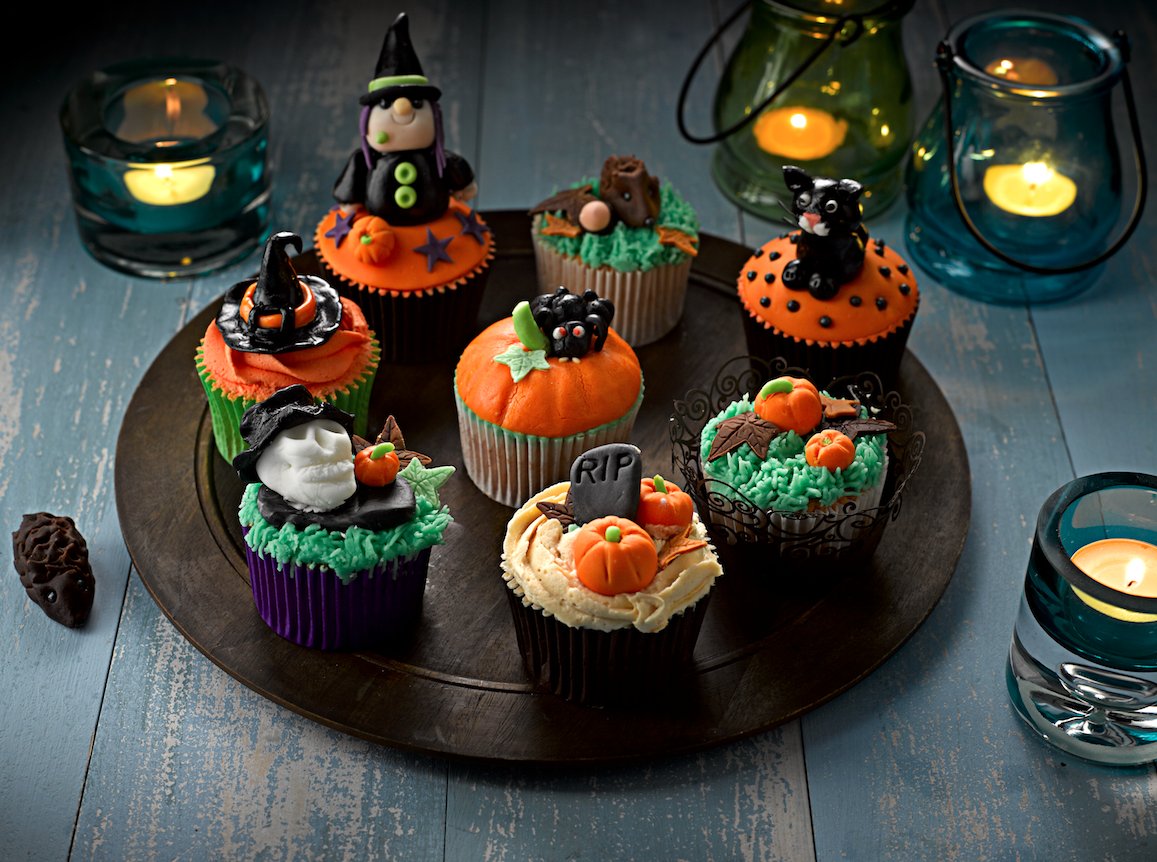 Halloween Cupcakes
GF
Ingredients
150g Udi's All Purpose Gluten-Free Flour
150g caster sugar
2 eggs
150g butter
1 TBSP milk
Instructions
Pre heat your oven to 180°C
In a large bowl, stir the caster sugar, eggs and butter
Sieve in the flour and mix
Once mixed add the milk
Spoon the mixture into 12 cupcake cases and bake for approximately 15 minutes
Decorate in the most frightening way you can
Tombstone Cupcake Directions
Use Butter icing underneath your fondant to get a flat surface, and then sculpt your cupcake into a dome using the palm of your hand.
For the fondant (grass), use Wiltons leaf green Icing colouring.
Create the grass by using a Wilton #233 nozzle. Fill the bag with coloured butter icing and squeeze in an upward motion.
Create the Tombstone by rolling black fondant. We used the cutters from Lakeland but feel free to use a sculpting tool to carve the RIP.
The Pumpkins are made from Renshaw orange fondant. Simply roll into a ball, make a small indentation on the top and add lines down the side with a sculpting tool. Use some remaining green icing for the stalk.
How to decorate the Pumpkin Cupcake
Using buttercream icing coloured with Wilton leaf green and a Wilton 233 nozzle pipe short blades of grass all over the cupcake.
Colour two small pieces of fondant coloured with Progel orange and roll into ball. Indent the centre of the balls with a pointed tool and make marks down the sides of each pumpkin.
Using a very tiny piece of fondant coloured with leaf green colouring make a stalk shape and glue into the centre of each pumpkin.
Roll out three different shades of brown fondant and cut out three ivy leaves using two different sized ivy cutters.
Assemble on top of the cupcake and wrap with a dark brown case.
Top tips for perfect cupcakes, from top bakers, Kings Acre Cupcakes:
Adding fruit flavours to sponge mix will give extra yumminess and will replace the job of gluten and a binding agent.
Always mix thoroughly and make sure to do the all-important 'taste test'.
Use an ice cream scoop to get equal measured cupcakes.
Always use a timer!
For more information, please visit: www.udisglutenfree.co.uk
Kings Acre Cupcakes: www.kingsacrecupcakes.co.uk
Tags:
Cupcakes
,
Gluten-Free Cake
,
Gluten-Free Dessert
,
Gluten-Free Halloween
,
Gluten-Free Recipes