Gluten-free Italian mini loaves
These lovely little gluten-free Italian mini-loaves are perfect for light lunches, or even breakfast if you're feeling fancy!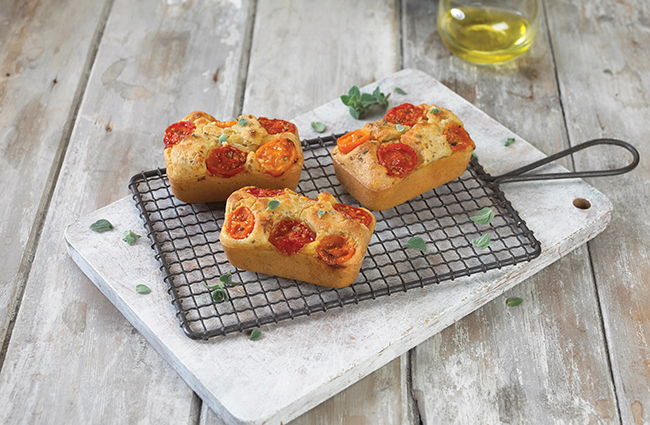 Gluten-free Italian mini loaves
By Isabel Gordon (www.isabelsfreefrom.co.uk)
Makes 8 | Prep 15 mins | Cook 25 mins | Calories 128 (per loaf)
GF SF MF
Ingredients
125g (4½oz) Isabel's Gluten-Free Batter Mix Flour
1 tsp garlic powder
1 tsp oregano
65ml (2½oz) olive oil, or melted butter
2 free range eggs
65ml (2½oz) milk substitute, or milk
toppings of your choice
Method
Preheat the oven to 170°C/Gas Mark 3. Grease an 8-hole mini loaf tin.
Measure the batter mix flour, garlic powder and oregano into a large bowl and mix well.
Make a well in the middle and add the eggs, olive oil (or butter) and milk. Using a whisk, mix all the ingredients together until you have a smooth, lump-free batter.
Pour the batter into each loaf tin cavity. Top with the toppings of your choice, then bake in the oven for 20-25 minutes, or until the top is golden and a skewer inserted into the centre comes out clean. Remove from the oven and allow to cool for about 3-5 minutes, before transferring to a wire rack to cool completely.
Tip
Add your favourite flavours to the loaves. From olives and onions to peppers and tomatoes, make the loaves your own. Just sprinkle on top before baking!
Tags:
Gluten-Free
,
Gluten-Free Bread
,
Gluten-Free Recipes