Gluten-Free plum frangipane tart
This is an absolutely delicious dessert. Apples can be used instead of plums depending on the season.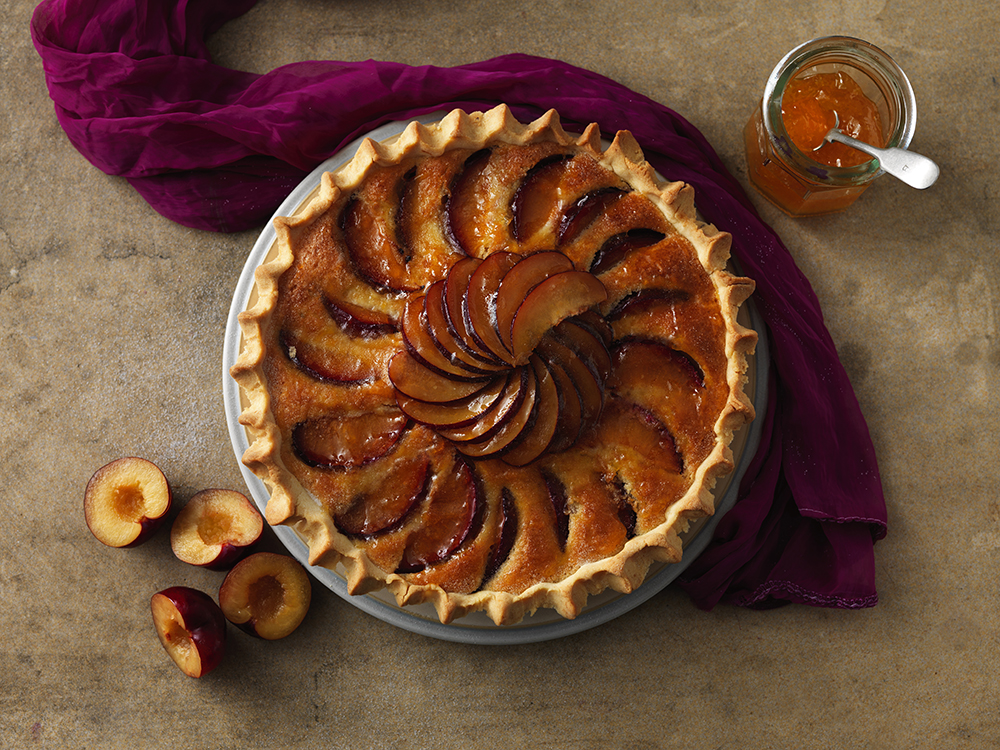 Gluten-Free plum frangipane tart
Servings: 8 | Preparation time: 40 minutes | Cooking time: 40-45 minutes
Ingredients
For the dough:
15g caster sugar
100g butter
1 medium egg, beaten
1-2tbsp cold water
For the filling:
110g butter at room temperature
110g caster sugar
2 large eggs, beaten
100g ground almonds
½tsp almond extract
4-5 plums, skinned
Finishing touches
50g apricot jam
A little bit of lemon juice
Method
Pre-heat the oven to 190°/170°C Fan/Gas Mark 5.
To make the pastry: Place the Schär Mix It! Universal and caster sugar in a bowl, cut the butter pieces into cubes and rub into the mix. Make a well in the centre and add the beaten egg and water and stir with a round bladed knife to combine. Then bring the mixture together into a ball.
Chill the pastry for 20 minutes. Dust the work surface with Schär Mix It! Universal and knead the pastry for 1-2 minutes until pliable. Roll out into a circle to fit the base and edges of a 23cm loose bottomed flan dish, chill while you make the frangipane filling.
Beat the butter and sugar together in a large mixing bowl; gradually add the eggs, beating well after each addition. Add the almond extract, stir in the ground almonds and Schär Mix It! Universal. Pour the frangipane over the pastry base, spreading it evenly.
Halve the plums and remove the stones, slice them into thin slices and arrange over the frangipane, ensuring the plum slices slightly overlap one another.
Place in the pre-heated oven and cook for 30 minutes until the frangipane is set. Take out of the oven and sprinkle caster sugar over the plums. Put back into the oven and continue cooking for a further 10-15 minutes.
Once the cake has cooled, remove from the tin and place onto a baking sheet. Before serving, spread the apricot jam (add a little lemon juice if the jam is very dense) over the plums to glaze. The tart is best served warm with cream or Greek yoghurt.
Gluten-Free
,
Gluten-Free Dessert
,
Gluten-Free Recipes
,
Recipes
,
Tarts