Gluten-Free Sausage Mummies
These cute gluten-free sausage Mummies are perfect finger-food for your Halloween party!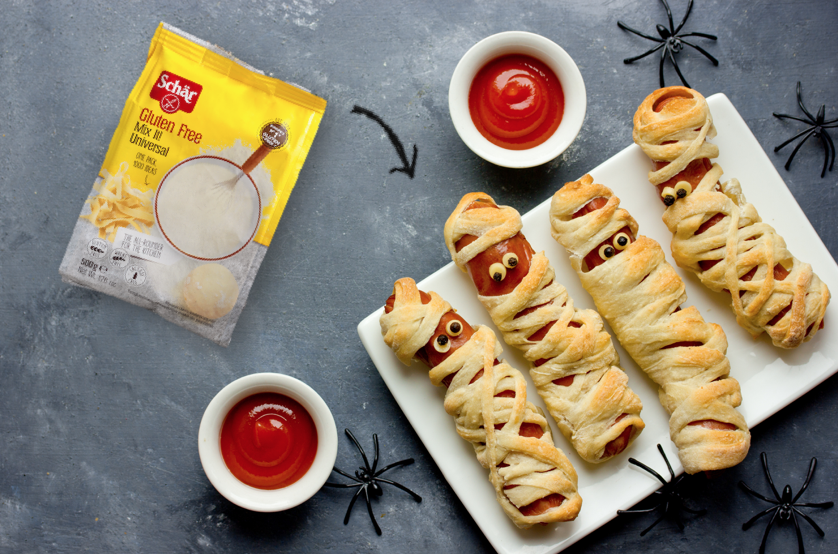 Gluten-Free Sausage Mummies
GF SF
Ingredients
100g butter, cubed
1 medium egg, beaten
1-2tbsp cold water
12-18 pre-cooked, gluten free sausages
Method
Place Schär Mix It! Universal and cubed butter in a bowl and rub together.
Make a well in the centre of the mix and add the beaten egg and water, and mix with a knife. Then, gently bring the ingredients together into a rough dough ball with your fingers. Cover with cling film and rest for at least 20 minutes in the fridge.
Pre-heat the oven to 180°/160°C Fan/Gas Mark 4.
Dust the work surface with Schär Mix It! Universal and knead the pastry for 1-2 minutes until pliable.
Roll out onto and cut into strips.
Wrap the strips of pastry around the sausages individually, into the style of a mummy.
Bake in the oven for 15 minutes, or until the pastry is golden brown.
For extra scare factor, add on some edible googly eyes!
Gluten-Free
,
Gluten-Free Halloween
,
Gluten-Free Recipes
,
Recipes