Gluten-free sundried tomato focaccia
The intense flavour of the sundried tomatoes makes this gluten-free sundried tomato focaccia the perfect antipasto!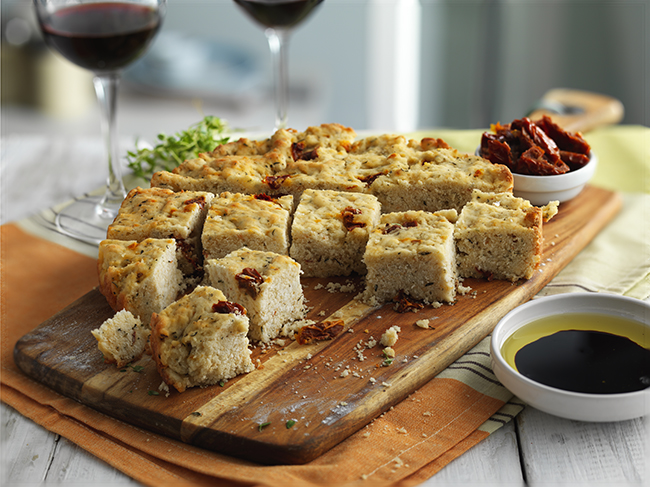 Gluten-free sundried tomato focaccia
Serves: 6 | Preparation time: 1 hour | Cooking time: 25 mins
GF SF DF V MF
Ingredients
1 cup (236ml) of warm water
¼ tsp sugar
2 tsp active dried yeast
2 large eggs
¼ cup extra virgin olive oil
1 tbsp honey
1 tbsp dried mixed herbs
1tsp rice vinegar
2 tsp salt
1 clove garlic, finely chopped
Freshly ground pepper
3 cups white gluten free flour
1 ½ tsp Xanthan Gum
1 tbsp extra virgin olive oil
75g/3oz sundried tomatoes
 Method
Place the warm water in a medium bowl with the sugar and sprinkle over the yeast, stir gently to dissolve then let it stand for 5-10 minutes until foamy.
In a bowl, mix the eggs, olive oil, honey, dried herbs, rice vinegar salt, garlic and pepper. Add the yeast and mix until combined.
Add the gluten free flour and Xanthan gum and mix together on low speed, so the dough is sticky. Turn off the mixer and scrape the dough from the sides. Add the sundried tomatoes and increase the speed to medium for about three minutes. Turn off and leave to stand for 5-10 minutes.
Put a little olive oil in a 9" round cake tin and grease the base and sides. Transfer the dough to the tin and turn it over to coat the other side with oil. Using your hands, gently pat the dough into an even layer in the tin. Pour the olive oil evenly over the top, cover with cling film and leave to rise at room temperature for 45 minutes.
Pre-heat the oven to 200°C, 400°F, Gas mark 6. Bake the focaccia for 20-25 minutes until golden brown. Cut into wedges and serve.
Tags:
Dairy-Free
,
Dairy-Free Diet
,
Dairy-Free Recipes
,
Gluten-Free
,
Gluten-Free Bread
,
Recipes
,
Sugar-Free Recipes