Lemon cupcakes with elderflower syrup
These zesty floral cupcakes will banish those winter blues and have you dreaming of summer days!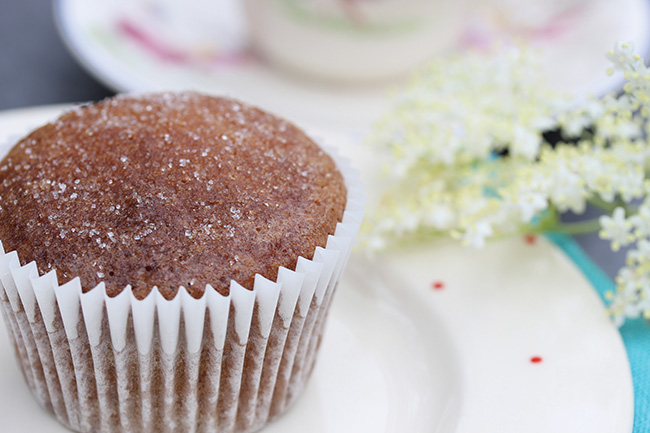 Gluten-free lemon cupcakes with elderflower syrup
By Vicki Montague (freefromfairy.com)
Serves 12 | Prep 25 mins | Cook 20 mins | Calories 200 (per serving)
GF DF MF
Ingredients
For the cake:
120g (4¼oz) Free From Fairy Plain Flour
120g (4¼oz) ground almonds
½ tsp bicarbonate of soda
70g (2½oz) muscavado, brown or coconut sugar
80g (3oz) maple or rice syrup
3 large free-range eggs
55g (2oz) extra-virgin olive oil
zest of 2 unwaxed lemons
juice of 1 lemon
For the syrup:
3 tbsp white sugar or rice syrup
juice of 1 lemon
3 elderflower heads
Method
Mix the flour, almonds and bicarbonate of soda together well in a large bowl or stand mixer.
Preheat the oven to 180ºC/Gas Mark 4 and line a 12-hole muffin tray with cases.
In a separate bowl, whisk the sugar, syrup and eggs for 5 minutes until pale and fluffy.
Add the oil slowly along with the lemon zest and juice.
Fold in the flour mix and divide between 12 muffin cases.
Bake for around 20 minutes until springy to the touch.
While the cakes are baking, make the sugar syrup by placing all the ingredients into a small pan over a low heat.
Bring slowly to a boil, stirring to dissolve the sugar if using.
Take off the heat once boiled, discarding the elderflowers.
Once ready, remove the cakes from the oven and spike around six holes in the top of each using a skewer.
Divide the syrup between the cakes and allow to cool.
Sprinkle with a little sugar before serving if you wish.
About the author…
Vicki writes the successful Free-from Fairy blog, which offers advice for those who are cooking free-from food for the first time or who have been diagnosed with an allergy. With recipes for all ages, including lots of ideas for kids, it's a great online resource for those with a gluten-free, dairy-free or sugar-free diet.
Tags:
Cupcakes
,
Dairy-Free Dessert
,
Gluten-Free Cake
,
Gluten-Free Dessert