Summery Lemon Zest Cake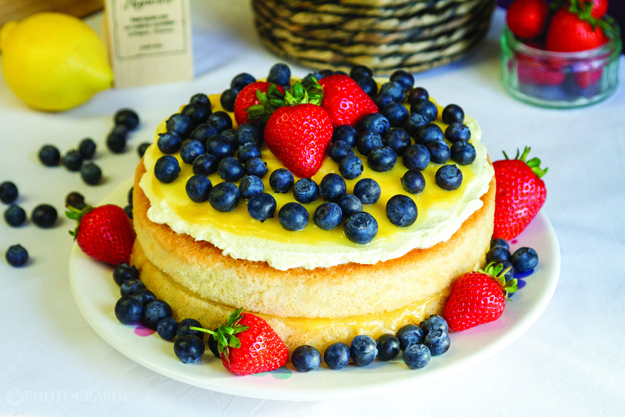 Summery Lemon Zest Cake
By Ali Walsh (http://www.lifeonaricecake.com)
Serves 8- 10 | Prep 30 mins | Cook 25 mins | Calories 555 (per serving)
Ingredients
For the cake:
360g (12oz) caster sugar
150ml (5½fl oz) vegetable oil
Finely grated zest of 2 lemons
4 large free-range eggs, beaten
200ml (7fl oz) soya milk
315g (11oz) gluten-free self-raising fl our
A pinch of salt
Lemon Curd – Makes a 340g jar: 
80g (2¾oz) vegan margarine
150g (5½oz) caster sugar
Finely grated zest and juice of 2 lemons
2 large free-range eggs
For the topping:
Summer berries
Dairy-free cream
Method
For the cake, preheat the oven to 190ºC/Gas Mark 5. Line two 20cm (8in) sponge cake tins.
Pour the sugar and oil into a bowl and beat well. Add the eggs, lemon zest and soya milk.
Sift the flour and salt into a bowl. Add a spoonful at a time into the egg mixture and mix until incorporated.
Glide a spatula around the sides of the bowl to free any lumps of mixture. Beat thoroughly until smooth.
Pour the mixture into the tins, then bake in the oven for 25 minutes, or until a toothpick inserted into the centre of the cake comes out clean. Place on a wire rack to cool.
For the lemon curd, sterilise a jar by placing it in an oven on a very low temperature for 10 minutes.
Put a bowl over a pan of boiling water, making sure the water doesn't touch the bowl. Add the margarine, sugar, lemon zest and juice to the bowl and stir gently. Mix well until the sugar and margarine have melted.
Remove from the heat and allow to cool slightly.
Strain the eggs through a sieve to ensure no eggshell or lumps come through. Beat quickly into the mixture, then pour into a saucepan over a low heat. Simmer for 5-8 minutes until thickened.
Take the jar out of the oven and place a jam funnel on top. Remove the mixture from the heat and pour into the jar. Tighten the lid and allow to cool.
When the curd and the cakes have cooled, turn out the first sponge onto a cake plate. Add the lemon curd (be generous as this cake looks delicious if the curd oozes out slightly). Place the other sponge on top and cover with more lemon curd. Top with fresh seasonal fruit and cream (or a soya alternative if you want it to be dairy-free).
Tags:
Dairy-Free
,
Dairy-Free Dessert
,
Gluten-Free
,
Gluten-Free Dessert
,
Recipe