Mango Sticky Rice Gelato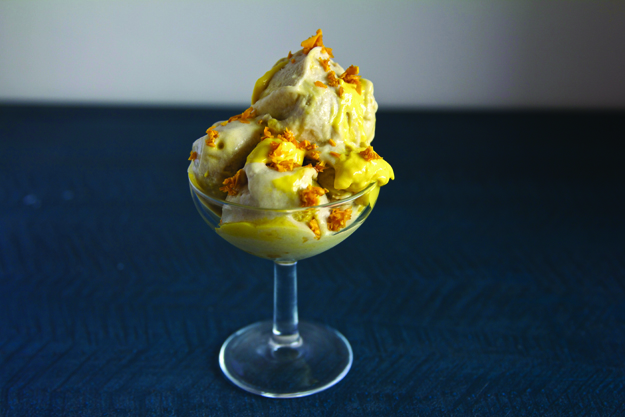 Mango Sticky Rice Gelato
By Ambra Torelli (www.littlebitesofbeauty.com)
Serves 6-8 | Prep 25 mins plus chilling
Cook none | Calories 257 (per serving)
Ingredients
200g (7oz) Thai sticky rice
400ml (14fl oz) coconut milk
200ml (7fl oz) rice milk
160g (5¾oz) Medjool dates
4 ripe mangoes
Method
1 Thinly slice two of the mangoes and place them in a dehydrator for 12 hours. If you don't have a dehydrator, you can use the oven at 45ºC/Gas Mark ¼ for about 3 hours. When ready, refrigerate. Alternatively, if you don't have much time, chop some store bought dehydrated mango, but just make sure it's all natural!!
2 Peel the remaining mangoes and blend them on medium without adding any water (so your gelato won't form ice crystals). When the mixture gets smooth, blend on high until it becomes dense and thick. Place your mango sauce in the refrigerator.
3 Using a rice cooker, steam the sticky rice to perfection.
4 Blend the two plant-based milks and dates in a high-speed blender until completely smooth. Pour the liquid over the cooked rice and let it cool down completely.
5 Transfer the mixture to an ice cream machine and churn until ready. The churning time will vary depending on your machine.
6 When the cream is smooth and churned, mix with the mango sauce and dehydrated mango. It's important that all of your ingredients are the same temperature as the cream. Serve the mango sticky rice gelato in glasses and enjoy.
Tags:
Egg-Free
,
Gluten-Free Dessert
,
Recipe
,
Vegan Dessert