Matcha Chocolate Cupcakes
Divine, moist dark chocolate cupcakes filled with a decadent matcha ganache and topped with a delicious, fluffy dark chocolate buttercream frosting.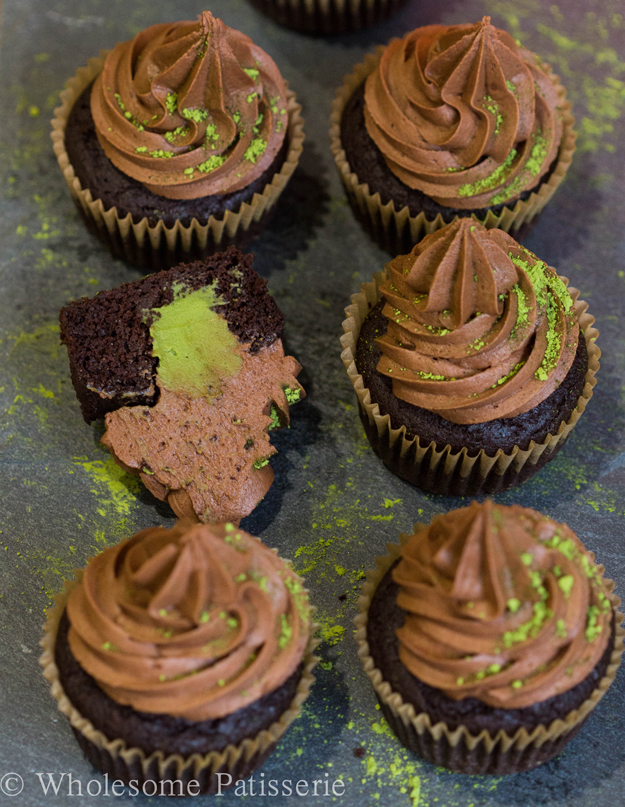 Matcha Chocolate Cupcakes
By Samantha Pickthall Wholesome Patisserie
Serves 12| Prep 1hr 30 mins | Cook 30 mins

GF DF
Ingredients
Cake:
1 cup almond milk
2 Tbsp instant coffee granules
¾ cup coconut sugar
⅓ cup coconut oil, melted
2 tsp vanilla bean extract
½ cup gluten free all purpose flour
½ cup hazelnut meal (can substitute almond meal)
1 cup raw cacao powder
1 tsp baking powder
1 tsp baking soda
¾ tsp guar gum
¼ tsp Himalayan pink salt
Matcha Ganache:
100g white chocolate, chopped
1 tsp cooking grade matcha, (Samantha used Remetea's Everyday Matcha)
¼ cup + 2 Tbsp thickened cream
Frosting:
150g dark chocolate, melted
80g butter, chopped into chunks
4.5 cups icing sugar, (gluten free)
2 Tbsp raw cacao powder
4-5 Tbsp almond milk
1 tsp vanilla bean extract
Method
Cake:
Preheat oven to 180ºC (356ºF) and line a cupcake pan with patty liners.In a large bowl or the bowl of a stand mixer, whisk together milk and coffee until coffee has completely dissolved.
Whisk in eggs, sugar, oil and vanilla.In a separate medium bowl, whisk flour, hazelnut meal, cacao, baking powder, baking soda, guar gum and salt.
Gradually add the flour mixture into the milk mixture, beating slightly between each addition.
Beat mixture for a further 2 minutes or until well combined and the batter has thickened.
Fill cupcake liners with mixture approx. ¾ of the way full.
Bake for 20-25 minutes or until a skewer inserted into the middle comes out clean.
Remove cupcakes from pan and cool completely on a wire rack.
Matcha Ganache:
Put white chocolate into a small pot or a heat proof bowl.
In a small mixing bowl, pour 1 Tbsp of cream and sift the matcha powder over the cream.
Quickly whisk the matcha and cream together until no lumps remain.
Pour the ¼ cup + remaining 1 Tbsp of cream into the bowl and whisk altogether.
Pour mixture into a small pot and put over a medium heat, stirring often. Heat just until boiling point or until small bubbles begin around the edges and in the middle.
Pour cream mixture over the white chocolate and let it sit for 30 seconds. Stir until all of the chocolate has melted and the ganache is smooth with no lumps.
Pour into a clean bowl and cover with plastic wrap and put in the refrigerator until it has thickened, approx. 1 – 1.5 hours.
Frosting:
In a double boiler over low-medium heat, melt dark chocolate. Begin frosting while chocolate is melting but remember to stir the chocolate every now and then.
In the bowl of a stand mixer or using a hand mixer, add butter. Using the whisk attachment, whisk the butter for 30 seconds or until just soft.
Gradually add icing sugar, 1 cup at a time.
If the dark chocolate is done, take it off the heat to let it cool slightly.
Between the addition of the icing sugar, add almond milk, 1 tablespoon at a time.
Add cacao powder and beat until combined.
Add in vanilla extract and beat well.
Add melted dark chocolate and beat mixture for a further 1-2 minutes or until light and fluffy.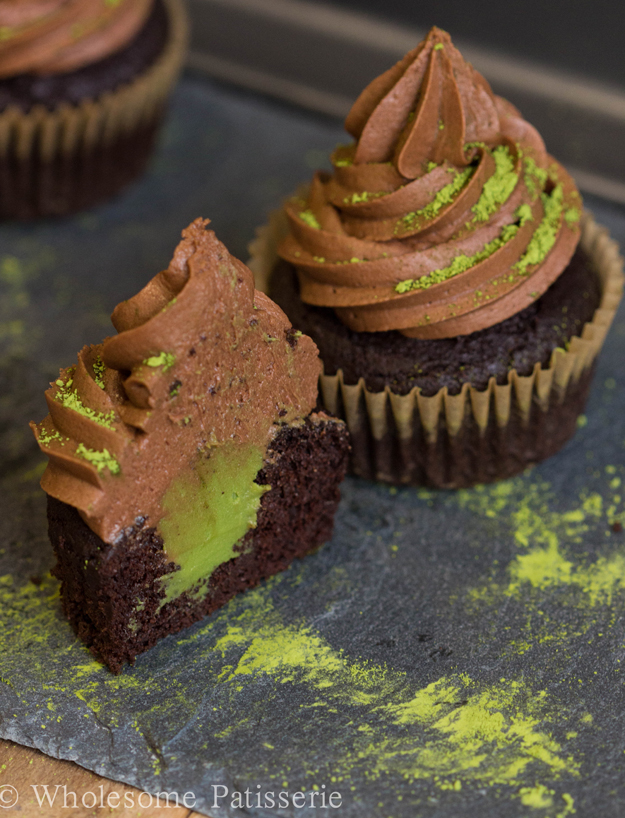 Assemble Cupcakes:
When cupcakes have completely cooled, take a small sharp knife and cut a V-shaped piece out of the top of each cupcake, about 2cm deep x 2cm wide.
Spoon the matcha ganache evenly among each cupcake.
Prepare a piping bag with a closed star nozzle.
Fill the piping bag with the chocolate frosting and pipe it onto each cupcake.
Optional: Sprinkle a small amount of matcha powder down the side of the frosting of each cupcake.
Cupcakes are best consumed the day you make them with the sprinkled matcha, as it will begin to dissolve into the frosting. Cupcakes will keep in an air-tight container, refrigerated or in the pantry, between 4-6 days. Left over ganache will keep in an air-tight container, refrigerated, between 1-2 weeks. Left over frosting will keep in an air-tight container, refrigerated, between 1-2 weeks.
---
About the author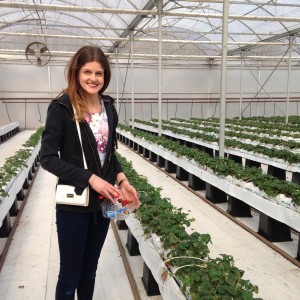 Samantha created
Wholesome Patisserie
to bring you into her world of endless amounts of chocolate, unbelievable gluten-free sweets, beautiful cakes and many more heavenly recipes. She holds a certificate III in Hospitality Patisserie, and a certificate III in Retail Baking (Cake & Pastry), and wants to show you that if you are eating a gluten-free diet, you can still have your cake and eat it!
Tags:
Chocolate
,
Cupcakes
,
Dairy-Free
,
Dairy-Free Dessert
,
Gluten-Free Cake
,
Gluten-Free Dessert
,
Gluten-Free Recipes