Meringue Bones and Raspberry Blood
These meringue bones and raspberry blood are a frightfully scary addition to your Halloween party table, although we can assure you they taste much more delicious than they look..!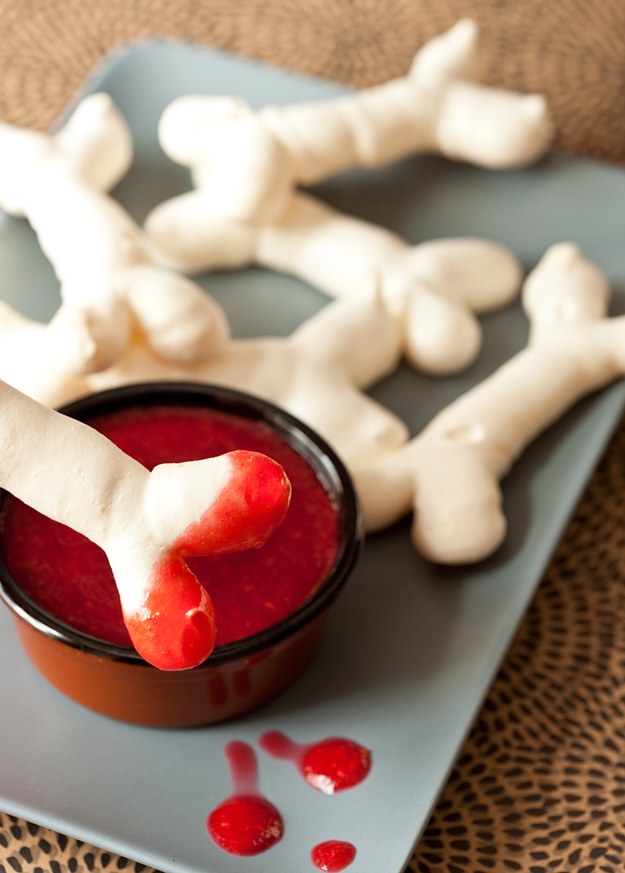 Meringue Bones and Raspberry Blood
Serves 8 | Prep 20 mins | Cook 30-40 mins (plus cooling) |
GF DF
For the meringue bones:
2 egg whites
120g caster sugar
For the raspberry blood sauce:
200g raspberries
1 tbsp icing sugar
2 tsp lemon juice
Method:
Preheat the oven to 130˚C/110˚C fan/gas mark 1 and line two baking trays with baking paper.
For the meringues bones, place the egg whites in a large clean bowl. Using an electric mixer, whisk on a slow speed for a few seconds then increase to a higher speed and whisk until soft peaks form, this will take approx 2 mins.
Reduce to a slow speed then gradually add the caster sugar a little at a time, whisking well after each addition. Once all the sugar has been added increase to a higher speed and whisk until fully combined and glossy.
Place the meringue mixture in a piping bag fitted with a 1cm round nozzle. To create the bone shapes firstly pipe a 'v' shape on one of the prepared baking sheets. Pipe a 10cm straight line from the bottom of the 'v' shape then pipe a 'v' shape at the other end of the straight line. Repeat until all of the meringue mixture has been used.
Bake for approx 30-40 mins until crisp. Once baked, turn the oven off and leave in the oven to cool – this will ensure the meringues are crisp on the outside and soft inside.
For the raspberry blood sauce, place the raspberries, icing sugar and lemon juice in a blender and blitz into a purée. Push the purée through a sieve to remove the seeds. If you are using tinned raspberries, drain them, push them through a sieve then add a splash of lemon juice and icing sugar to taste.
Transfer the raspberry blood sauce to a ramekin or small bowl then place on a plate along with the meringues bones. For a more scary effect drizzle some of the sauce onto the bones!
TIP:
* If you're not confident piping the meringue bones then simply draw bone shapes on a piece of paper to create templates, place under the baking paper and pipe over the templates.
* The meringues can be made in advance and stored for up to 1 week in an airtight container. The raspberry sauce will store for up to 2 days in the fridge.
Tags:
Dairy-Free Dessert
,
Dairy-Free Recipes
,
Gluten-Free Dessert
,
Gluten-Free Halloween
,
Gluten-Free Recipes