Lime juice is usually the sour staple in a ceviche, but this recipes also adds a dash of passion fruit to create a boldly refreshing summer appetizer…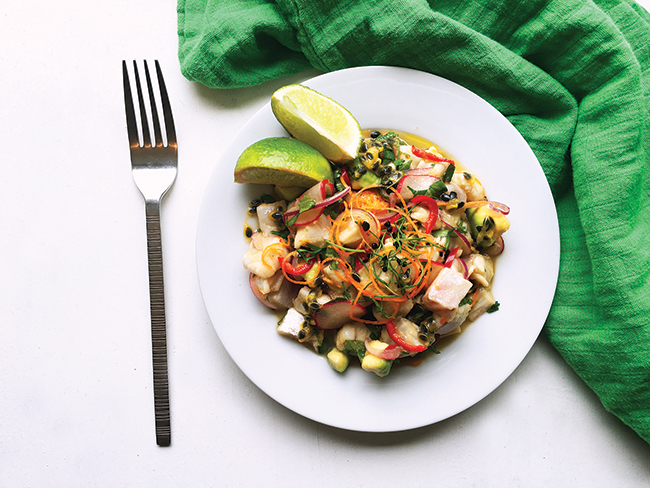 Passion fruit ceviche
By Georgina Young (www.greensofthestoneage.com)
Serves 4 | Prep 15 mins plus marinating | Cook 10 mins | Calories 237 (per serving)
GF SF DF EF
Ingredients
juice of 4 limes
grated zest of 1 lime
juice of ½ an orange
2 passion fruit
1 tsp sea salt
1-2 fresh red chillies, deseeded, finely sliced
400g (14oz) cod fillets (or other firm white fish) skinned, boned, bloodline removed
¼ a red onion, peeled, finely sliced
2 radishes, finely sliced
½ a large avocado, cubed
6 tbsp fresh coriander, finely chopped
4 tbsp fresh mint leaves, finely chopped
½ a carrot, peeled, finely shredded
4 tbsp microgreens, to garnish
extra-virgin olive oil, to garnish
Method
In a jam jar or sealed container, mix together the lime juice, zest and orange juice. Place a small sieve on top and empty the seeds from the passion fruit. Using the back of a spoon, press the seeds down until you get as much juice as you can into the jar. Set the seeds aside. Add the sea salt and red chillies, mix, then place in the refrigerator.
Cut the fish fillets into 1cm (½in) cubes, place into a bowl, pour over the juice and stir. Set to one side to marinate for 10 minutes. Drain the fish, but save the juice, then add the red onion, radishes, avocado, coriander and mint. Stir, then serve in shallow bowls. Top with one or two tablespoons of the reserved juice, shredded carrot, microgreens and a drizzle of olive oil.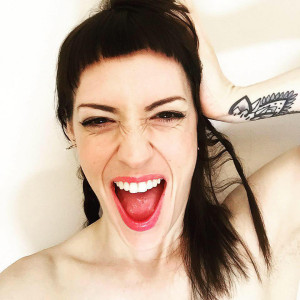 About the author: Georgie is a fresh faced, freelance writer and recipe developer who specialises in nutrition, fitness, and health and well-being. She enjoys sharing her passion for cooking, Paleofying food, and exploring Veganism within the Paleo diet on her blog, Greens of the Stone Age, and along the way has helped many friends to take a more holistic approach to their hectic lifestyles. She have further expanded upon her love of the Paleo way of living by setting up Primal Eye Magazine – the UK's 1st online Paleo lifestyle magazine!