Raspberry & orange polenta cake
This flourless gluten-free polenta cake, with a satisfyingly crumbly, moist and dense texture, is perfect for enjoying over a cup of tea with friends or packed in a cake tin to take on a picnic.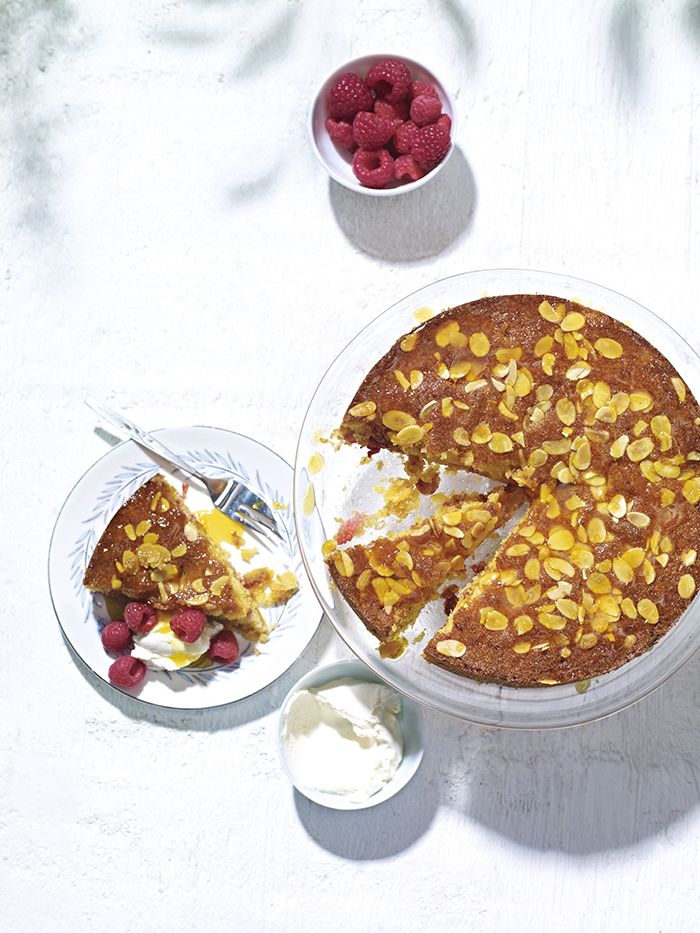 Gluten-free raspberry & orange polenta cake
Recipe and image courtesy of Waitrose.com
Serves: 12 | Total time: 1 hour 5 minutes  
GF DF V MF
Ingredients
200g margarine (e.g. Flora Buttery), plus extra for greasing
300g golden caster sugar
3 large free range eggs
1 tsp vanilla extract
100g Polenta Valsugana
200g ground almonds
1 tsp baking powder
Finely grated zest and juice of 2 oranges
165g raspberries, plus extra to serve
2 tbsp flaked almonds
2 tbsp orange liqueur (optional)
Method
Preheat the oven to 160ºC, gas mark 2. Grease and base line a 23cm spring-form cake tin.
Whisk the Flora and 200g of the sugar in a large bowl until creamy. Beat in the eggs and the vanilla extract.
Add the polenta, almonds, baking powder and orange zest and mix together. Gently stir in the raspberries. Spoon into the tin, scatter with flaked almonds and bake for 50 minutes until set and lightly browned.
Meanwhile, place the orange juice and remaining 100g caster sugar in a small saucepan and simmer gently over a medium heat for about 10 minutes until thickened and syrupy. Remove from the heat and stir in the liqueur, if using.
Prick the cake with a thin skewer and spoon over the syrup. Leave to cool in the tin then slice and serve with a spoonful of mascarpone and a scattering of raspberries.
Cook's tip
For extra zing, try using lemons in place of the oranges.
Tags:
Gluten-Free
,
Gluten-Free Cake
,
Gluten-Free Dessert
,
Gluten-Free Recipes
,
Recipes