Hummingbird Cake
This extravagant looking layered  hummingbird cake is a spongy, moist delight, topped off with coconut and lemon frosting. Sounds good to us!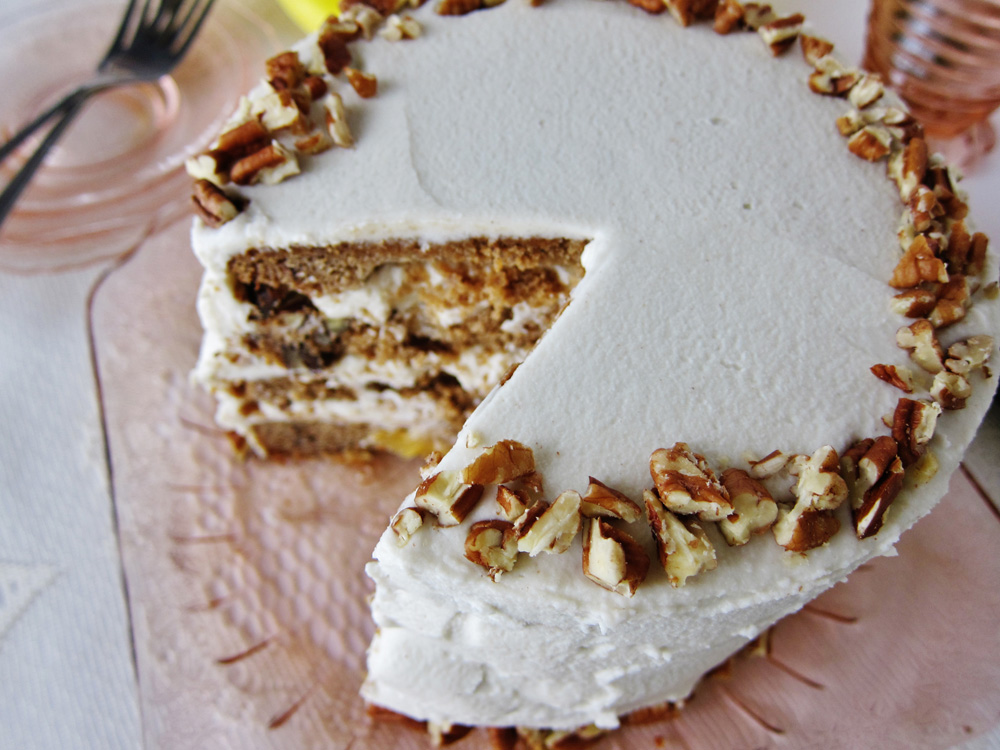 By Amy of Fragrant Vanilla Cake.
This recipe is: Gluten-free, Dairy-free, Egg-free, Refined Sugar-free. Suitable for Vegans and Vegetarians.
Makes 1 6 inch 4 layer cake | 2 6 inch cake pans
Ingredients
For the Cake:
1 1/2 cups All Purpose Gluten Free Flour
1 cup coconut sugar
1 1/2 tsp baking soda
1 tsp baking powder
1/2 tsp sea salt
1 tsp ground cinnamon
1 cup mashed bananas
1/4 cup virgin coconut oil
1 Tbsp pure vanilla extract
1/4 cup + 2 Tbsp pineapple juice at room temperature
2 Tbsp apple cider vinegar
1/2 cup chopped pineapple
1/3 cup chopped pecans
For the Frosting
2 cans organic full fat coconut milk, chilled
2 cups raw cashews, soaked for 4 hours and drained
3/4 cup raw coconut nectar, maple syrup or agave nectar
1/2  tsp sea salt
2 tsp pure vanilla extract
juice of one lemon (about 3 Tbsp)
1 3/4 cups coconut butter, warmed to liquid
Method
For the cake:
Preheat the oven to 375 degrees and position rack in centre of oven. Line two six-inch-diameter cake pans with 2-inch-high sides with parchment paper. Coat parchment paper and pan sides lightly with coconut oil so that the cake doesn't stick and line the bottom of the pan with a piece of parchment fit to the pan.
Whisk flour, baking soda, sea salt, cinnamon and sugar in a large bowl to blend well.
Whisk bananas, oil, pineapple juice, and vanilla extract together in small bowl to blend well, then whisk into the flour mixture until well blended. Whisk in the cider vinegar until bubbles form. Mix in the pineapple and pecans.
Transfer cake batter to prepared pans and bake cakes until tester inserted into centre comes out clean, about 25-30 minutes.
Cool cakes completely in pan on rack, about 1 hour. Cut around sides of pan to loosen. Turn cakes out onto platter; peel off parchment paper. Let cool completely, then place in the fridge to chill until very cold to make slicing easier. When chilled, slice cakes horizontally in half so that you have 4 layers.
For the frosting:
Combine all ingredients but the coconut butter in a high speed blender or food processor and blend until smooth.
With the motor running, add the coconut butter and process a minute more.
Pour the frosting into a bowl and let sit in the freezer until the consistency of whipped cream (this may take anywhere from 1/2 hour to an hour depending on how warm it has become).
When ready to frost, place one cake layer on a plate. spread frosting about 1/2 inch thick over the first layer, then top with the second.  Repeat the frosting, then another cake layer, then more frosting then the last cake layer. Spread frosting over the top and down the sides of the cake.
Garnish the cake with chopped pecans.
Store any leftover cake in the refrigerator.
Note: if you would like a 4 layer 9 inch cake, double this entire recipe and bake in two 9 inch cake pans.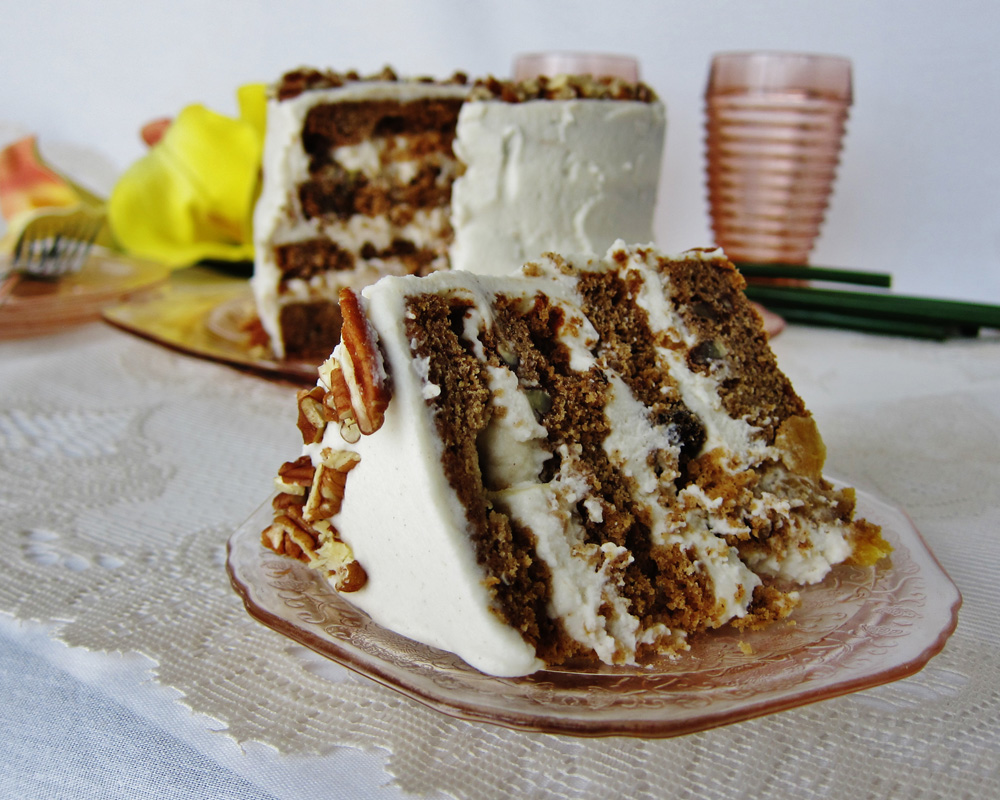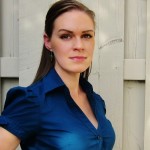 About the author: Amy lives in Minnesota and runs her blog Fragrant Vanilla Cake, which features mostly raw, vegan recipes. She especially likes creating cakes and desserts, but you'll find the occasional savoury dish too. Aside from her passion for creating new and delicious recipes, Amy also loves running and has a degree in studio art – her artistic mind is clear in the beautiful food creations she makes. You can visit her Facebook page, and follow her on Twitter.
Check out more of our vegan recipe inspiration and gluten-free recipe ideas.
Tags:
Dairy-Free
,
Dairy-Free Dessert
,
Egg-Free
,
Gluten-Free
,
Gluten-Free Dessert
,
Paleo Dessert
,
Recipes
,
Sugar-Free Dessert
,
Vegan
,
Vegan Dessert