Oro – Barbecued Aubergine Curry
Here's a delicious spicy summer curry to excite your taste buds! All natural ingredients with plenty of spices means this barbecued aubergine curry is naturally gluten, dairy and sugar-free but still with all the flavour!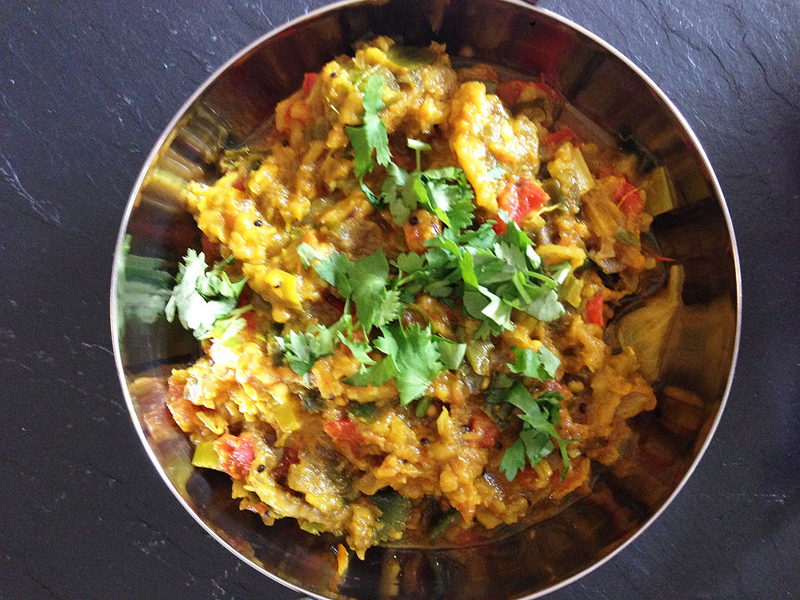 By Mira Manek.
I went to a new Gujarati restaurant while I was in Dubai recently, nothing flamboyant or extravagant, but serving the most authentic and delicious food. The Oro, barbequed aubergine curry, in particular, served traditionally with rotlo, a millet roti with fresh ghee melted on top, was my absolute favourite. When I went into the kitchen to learn a thing or two from the Mahraj, the cook, who had come from Jaipur, what I realised is that while oro is a very simple curry to cook, it's the abundance of chopped spring onions used that really brings out the flavour and brings to life this simple curry. And so I have adapted my own recipe by adding a very large quantity of spring onions.
The complex richness of the flavour is entirely at odds with the simple method – and it really is quite simple. Aubergines usually require a lot of oil to cook, but softening the aubergine in the oven first means you don't need more than a teaspoon of oil.
This dish – the oro and rotlo – reminds me of meals I've had in Gujarati villages, in such dim light that I can never thankfully tell how much oil might be gleaming on the surface of the curry or how much ghee is spread onto the otherwise dry rotlo.
This time, though, I'm eating the curry on crispy corn thins. Mixing it up!
This recipe is gluten-free, dairy-free, refined sugar-free and vegan.
Ingredients | Serves 2-4
1 onion
1 tomato
1 eggplant (aubergine)
7 spring onions
2 tablespoons oil
½ teaspoon mustard seeds
¼ teaspoon fenugreek seeds
¼ teaspoon cumin seeds
½ teaspoon turmeric powder
½ teaspoon coriander powder
½ teaspoon cumin powder
1 teaspoon salt
1 spoon garlic, ginger and chilli paste
¼ teaspoon red chilli powder (optional)
Handful chopped coriander leaves
Method:
Make long slits along the aubergine and place in the oven for around 45 minutes.
When it is nearly done, heat the oil, add the mustard, fenugreek and cumin seeds, and wait the mustard seeds start to pop before adding the onions.
Once the onions are brown, add most of the spring onions and tomatoes. Let this cook for a few minutes before adding all the masalas, garlic, ginger and chilli paste as well as salt.
Now peel the skin of the eggplant and mash the inner flesh.
Add this into the curry paste, along with the rest of the spring onions, and let it cook for around 10 minutes.
Garnish with coriander before serving.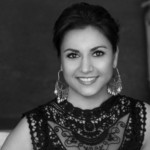 About the author: Mira Manek is a journalist and writer with a passion for health and wellbeing. Her book Green Daal Stories focuses on adapting some of her family's Gujarati vegetarian dishes, to ensure they are nutritious, low in carbohydrates and high in protein. For more recipes and info on the release of Mira's book go to: www.miramanek.com or @miramanek on Twitter.
Check out more delicious gluten-free recipes and vegan recipes! For even more, grab a copy of the magazine.
Tags:
Curry
,
Dairy-Free
,
Dairy-Free Dinner
,
Egg-Free
,
Gluten-Free
,
Gluten-Free Dinner
,
Indian Food
,
Paleo Dinner
,
Recipes
,
Sugar-Free Dinner
,
Vegan
,
Vegan Dinner
,
Vegetarian Dinner