Rose & Raspberry French Macarons
We're feeling inspired here at Free-From Heaven by our colleague's recent adventure in macaroon making – check out the photos on Instagram. So here are some beautiful and tasty gluten-free macarons for you to try yourself! Let us know how you get on!
By Emily of Emily Cooks Vegan.
I made French Macarons again, and this time they were almost perfect! I'm so proud of them, and my friends really liked them as well 🙂 I decided to make them again as I have the afternoon off work and they're quite time-consuming, and I thought rose and raspberry would be a really nice flavour combination to compliment the light and delicate texture of the Macaron cookies. I made Macarons for the first time about a week ago, and this is how they went: My First Attempt at French Macarons – not brilliant, but okay for a first try. I made a few tweaks this time and oh my God did they make a difference! First of all, I looked at around a million new recipes, and they all said to have the oven at a lower temperature, and second of all I left them during the 'drying' stage for around an hour and a half (I went for a run so I wouldn't be tempted to prod or fiddle with them) – and thanks to this, they developed feet! I don't want to brag, really, but I'm exceptionally happy with them, and I think I've cracked how to do them for my birthday – I might even try them with egg replacers in the future 🙂
This recipe is gluten-free, dairy-free and vegetarian.
Ingredients | Makes about 25 mini macarons 
75g of ground almonds
115g of icing sugar
2 large egg whites, at room temperature
50g of caster sugar
One teaspoon of rose water
A few drops of red food colouring (it will come out pink when mixed with the Macaron batter)
A few teaspoons of raspberry jam
Method:
Cut sheets of baking paper to fit two large baking trays.
Mix the ground almonds and icing sugar together thoroughly to make a sort of 'flour', then set aside.
Beat the egg whites with an electric beater until they are foamy. Gradually add the caster sugar to the egg whites and beat on high until stiff, glossy peaks form, about one minute. Add the rose water and food colouring and stir lightly. When the meringue is stiff, firm and has a glossy texture, it is done.
Add half of the sifted 'flour' mixture from step two, fold it with a spatula, scooping it up from the bottom of the bowl. Add the rest of the flour and fold it lightly while forming a circle. When it's all incorporated, you should have a light, sloppy batter.
Attach a one cm tip to a piping bag. Twist the bag to hold the tip tightly, this prevents the batter from leaking out. Place the piping bag, tip first, inside a deep measuring cup and pour in the batter. Hold it tightly at the top, and squeeze the batter onto the trays to make circles. Make small circles since the batter tends to spread.
Rap the baking sheet firmly against the counter or other flat surface. This helps the macarons hold their rounded shape and helps the pied, or little "foot," to form.
Let dry at room temperature, uncovered, for at least 60 minutes (I think the reason these are better than my last attempt is that I left them for around 90 minutes instead of 30). A slight crust should form on top. If the batter circles do not stick to your finger when you touch them, the drying process is complete.
Baking the Macarons:
Preheat the oven to 160 degrees Celsius (another reason these were better, I cooked them at 160 instead of 190).
Put one tray on the top shelf, and one on the bottom, and bake for 7 minutes, then swap the trays over and bake for a further 7 to 12 minutes, until they're a very light golden – well, until they have a goldy tint to their pink colour.
Place baking sheets on wire racks to cool. When the macarons are completely cooled, remove them from the baking sheet.
Spoon tiny amounts of the raspberry jam onto half of the Macaron cookies, then sandwich them together to make traditional French Macarons!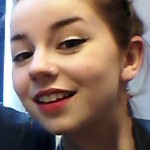 About the author: Emily is a London-based journalist and has been a vegetarian for nine years. For three years she has been experimenting with veganism – hence her blog Emily Cooks Vegan. Not quite all of the tasty recipes she features are vegan (the odd few use egg or milk) but all are delicious and easy to make. You can find emily on Facebook at EmilyCooksVegan and on Instagram at emilycooksvegan.
Tags:
Dairy-Free
,
Dairy-Free Dessert
,
Gluten-Free
,
Gluten-Free Dessert
,
Recipes
,
Vegan Dessert
,
Vegetarian