Gluten-free salmon & asparagus tart
This summery salmon and asparagus tart will have you dreaming of warmer days!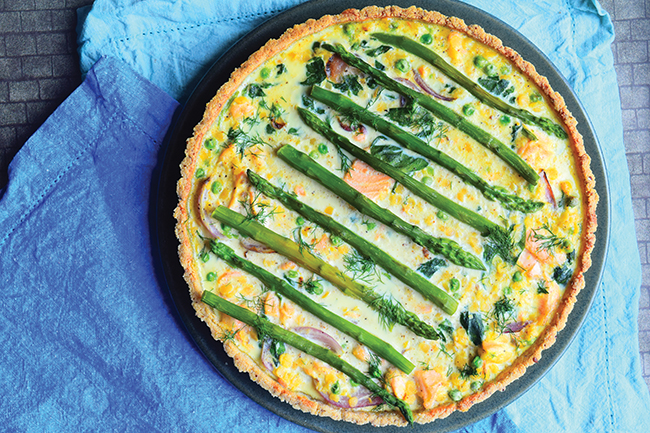 Gluten-free salmon & asparagus tart
By Stacey Hogan (www.mynutricounter.com)    
Serves 8 | Prep 20 mins plus chilling | Cook 55-60 mins | Calories 335 per serving
GF SF
Ingredients
For the Pastry:
180g (6¼oz) ground almonds
1 tbsp flax seed
1 tbsp coconut oil
1 free-range egg
1 tbsp water
1 tsp olive oil
For the filling:
2 salmon fillets
75g (2¾oz) asparagus
100g (3½oz) lentils
500ml (18fl oz) water
½ a red onion, peeled
100g (3½oz) spinach
30g (1oz) frozen peas
2 free-range eggs
2 free-range egg whites
75g (2¾oz) Greek yoghurt
115ml (4fl oz) almond milk, unsweetened
1 tbsp fresh dill
2 tsp Dijon mustard
1 tsp nutmeg
1 tsp black pepper
grated zest from ½ a lemon
1 tsp olive oil
Method 
Preheat the oven to 170ºC/Gas Mark 3.
Place all of the pastry ingredients (except for the olive oil) into a food processor and pulse until combined. If the mixture is too sticky, add more ground almonds.
Grease a pie tin with the olive oil and place the pastry mixture inside it, pressing it along the bottom and up the sides until everywhere is covered.
Bake in the oven for 15 minutes.
Meanwhile, start making the filling. Place the lentils in a saucepan and cover with 500ml (18fl oz) water, bring to the boil, then simmer for 15 minutes.
Break the tops from the asparagus spears. Add the asparagus, frozen peas and spinach to a large pan, cover with water, bring to a simmer and cook for 5 minutes. Drain, then set aside.
Cut the salmon fillets into chunks and remove the skin. Add the milk and salmon to a large pan, and bring to a gentle simmer. Cook for 4-5 minutes, then drain.
Heat the olive oil in a frying pan, slice the onion and gently fry until softened.
Whisk together the eggs, egg whites, Greek yoghurt, nutmeg and black pepper until combined, then add the onion, peas, mustard, dill, lemon zest, salmon, spinach and lentils.
When the pastry is ready – remove from the oven and pour in the filling mixture, then place your asparagus and fresh dill on top.
Place back into the oven and bake for a further 10-15 minutes, until the filling has set and the crust has started to brown. Remove, allow to cool slightly and serve.
Tags:
Fish
,
Gluten-Free Dinner
,
Gluten-Free Lunch
,
Gluten-Free Recipes
,
Sugar-Free Dinner
,
Sugar-Free Lunch
,
Sugar-Free Recipes
,
Tarts