Salmon, Cavolo Nero & Sweet Potato Gratin
Perfect as a side dish, or even as the main attraction, this wholesome salmon, cavolo nero and sweet potato gratin is bursting with flavour and goodness.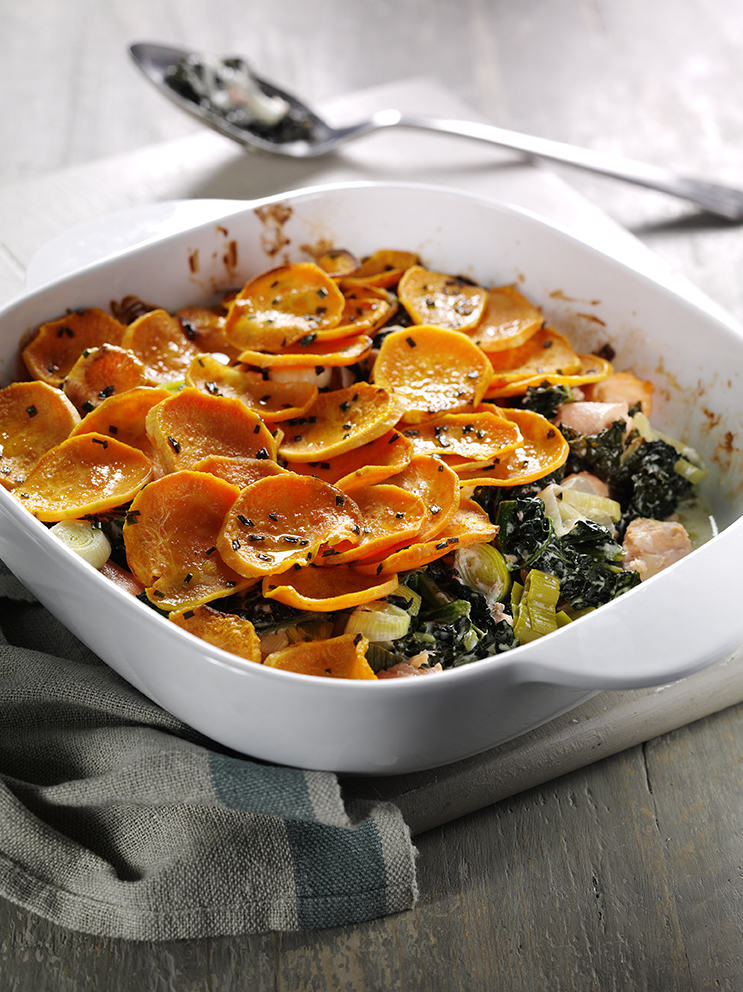 Salmon, Cavolo Nero & Sweet Potato Gratin
Recipe by Discover Great Veg (www.discovergreatveg.co.uk)
You've well and truly decked the halls and indulged in the turkey and mince pies but now it's time for the next annual ritual, that's right, the New Year health kick. Get that 'new year, new you' resolution off to a great start with superfood cavolo nero, kale's Italian cousin also known as black kale.
Discover Great Veg have teamed up with nutritionist Fiona Hunter for her top tips on how to supercharge your life with this leafy green superfood. And they've also created some delicious, fresh recipes, like this salmon and cavolo nero sweet potato gratin, to help you make the most of this versatile vegetable. 
Serves 4 | Prep: 15 minutes | Cook: 25-30 minutes
GF SF EF
Ingredients
4 skinless salmon fillets, diced
200g pack sliced cavolo nero
1 tbsp oil
250g leeks, sliced
200ml tub half fat crème fraiche
2 sweet potatoes, thinly sliced
2 tbsp chopped chives
Method
Preheat the oven to 200C, gas mark 6.
Blanch the salmon and cavolo nero in boiling water for 4 minutes, and drain.
Meanwhile, heat half the oil in a frying pan and fry the leek for 3 minutes then add the salmon and cavolo nero, stir in the crème fraiche and cook for 1 minute, season and transfer to a heatproof serving dish.
Toss together the sweet potatoes, chives and remaining oil, season and scatter over the salmon mixture.  Bake for 25-30 minutes until the sweet potatoes are golden and tender.
Fiona's Top Tips
Cavolo nero can be boiled, stir-fried, steamed or eaten raw – why not add some to your favourite smoothie for an easy way to feel its benefits
High in vitamins K, A and C, lutein, calcium and folic acid as well as manganese, copper and iron, cavolo nero can be used as an alternative to cabbage in recipes
Now grown in Lincolnshire, its rich, intense, slightly sweet flavour makes it perfect in lighter dishes from salads to minestrone soup

Gluten-Free
,
Gluten-Free Dinner
,
Gluten-Free Recipes
,
Recipes
,
Sugar-Free Diet
,
Sugar-Free Dinner
,
Sweet Potato