Smoked haddock, sweetcorn & chilli gluten-free fish cakes with spicy tomato sauce
Prepare yourself for the fanciest, most delicious fish cakes you've ever tried! Packed with smoked haddock, sweetcorn and chilli, served with spicy tomato sauce, these are no ordinary fish cakes!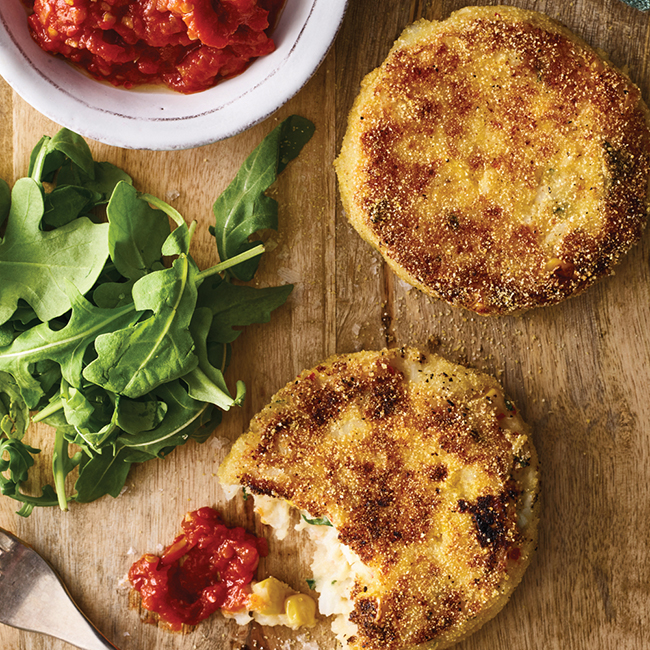 Smoked haddock, sweetcorn & chilli fish cakes with spicy tomato sauce
By Lakeland (www.lakeland.co.uk)     
Makes 4 | Prep 20 mins plus chilling | Cook 30 mins | Calories 336 (per fish cake)
GF SF DF EF
Ingredients
For the fish cakes:
400g (14oz) potatoes, peeled, cut into evenly-sized chunks
250g (9oz) undyed smoked haddock, skinned
100g (3½oz) tinned sweetcorn, drained
2 tsp dried chilli flakes
1 tbsp flat-leaf parsley, finely chopped
salt and freshly ground black pepper
50g (1¾oz) polenta
2 tbsp vegetable oil, plus a little extra for greasing
For the tomato sauce:
1 tbsp olive oil
2 shallots, peeled, finely chopped
3 garlic cloves, peeled, finely chopped
400g (14oz) tinned chopped tomatoes
1 tsp dried chilli flakes
1 tsp sugar
salt and freshly ground black pepper
Method
Place the potatoes in a saucepan with just enough cold water to cover. Put on the lid, bring to the boil and simmer for 10 minutes. Place the haddock in a steamer or colander and cook on top of the potatoes for 4 minutes, or until the fish is just cooked and the potatoes are tender.
Drain the potatoes, place back on a low heat for 1 minute to dry out, remove from the heat and mash until smooth. Add the haddock, sweetcorn, chilli flakes, parsley and season well. Mix together gently so that the fish stays in large flakes. Leave to cool.
Spread the polenta onto a plate. Divide the potato mixture into quarters, and shape each into an 8cm (3in) cake. Coat in the polenta and place on an oven tray lined with baking parchment.
Lightly grease a cooking ring with vegetable oil. Place it over a fish cake and press to make a perfect shape. Repeat with the remaining cakes. Chill for 15 minutes.
To make the tomato sauce, gently heat the olive oil in a pan and fry the shallots and garlic for 5 minutes, or until soft. Add the remaining sauce ingredients and simmer for 20 minutes. Season to taste.
Heat the vegetable oil in a large frying pan. Fry the fish cakes for 5-6 minutes, or until piping hot and golden brown on both sides. Serve with the spicy tomato sauce.
Tip
Try using salmon, tuna or crab to replace haddock. Add chopped spring onions or chives instead of parsley.
Tags:
Dairy-Free Dinner
,
Dairy-Free Lunch
,
Dairy-Free Recipes
,
Gluten-Free Dinner
,
Gluten-Free Lunch
,
Gluten-Free Recipes
,
Sugar-Free Dinner
,
Sugar-Free Lunch
,
Sugar-Free Recipes