Smoky baked chicken with tortillas and rice
Nutritious and delicious, this crunchy bake is a great source of calcium, and is suitable for those on a gluten-free diet – not to mention it makes for a fun and flavourful family meal!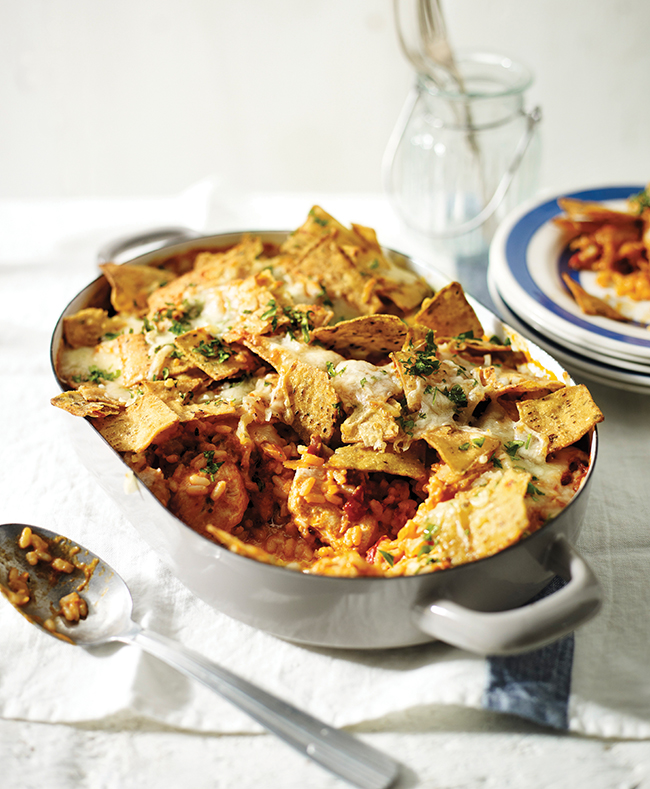 Smoky baked chicken with tortillas and rice
By Waitrose (www.waitrose.com)
Serves 4 | Prep 5 mins | Cook 35 mins | Calories 626 (per serving)
GF SF EF
Ingredients
300g (10½oz) frozen Cooks' Ingredients Risotto Base
400g (14oz) chicken mini fillets, cubed
350g (12oz) tub of Waitrose Pepperonata Pasta Sauce, warmed
1 tbsp sweet smoked paprika
75g (2¾oz) Cheddar and mozzarella, grated
160g (5½oz) gluten-free Mexican tortilla chips
2 tbsp chopped parsley
Method
Preheat the oven to 200ºC, gas mark 6. Place the risotto, chicken, sauce, paprika and 100ml hot water in a small ovenproof dish and stir well together. Bake for 30 minutes until the chicken is cooked through with no pink meat.
Sprinkle three quarters of the cheese over the chicken then break up the tortilla chips and scatter over.
Sprinkle over the remaining cheese and parsley, then bake for a further 5 minutes until the cheese has melted and the tortillas have browned a little at the edges.
Tip
You can use 250g (9oz) long grain rice in place of the frozen risotto in step 1.
Tags:
Chicken
,
Egg-Free
,
Gluten-Free
,
Gluten-Free Dinner
,
Gluten-Free Recipes
,
Recipes
,
Sugar-Free Diet
,
Sugar-Free Dinner
,
Sugar-Free Recipes