Strawberry Cashew Cream Cake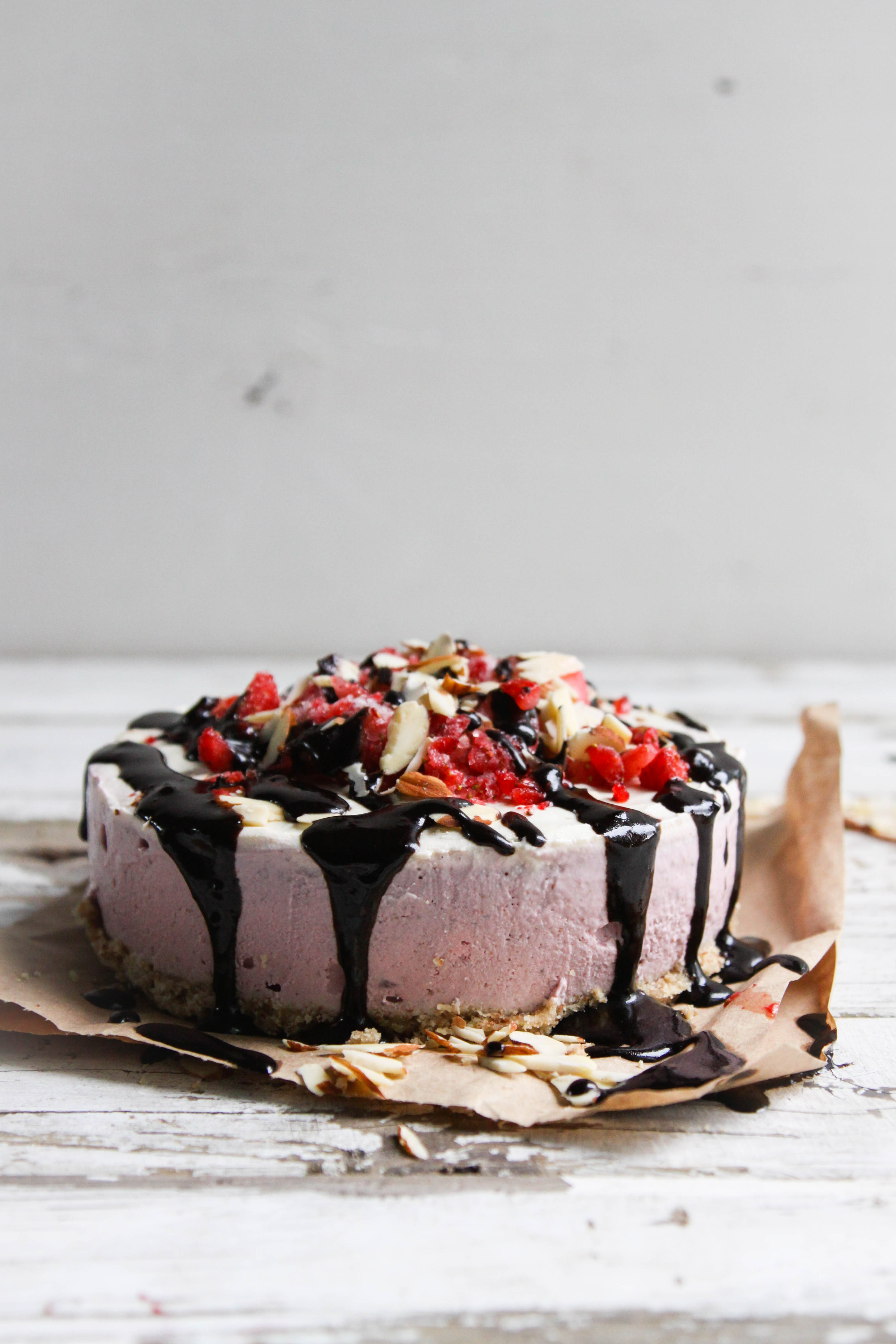 Strawberry Cashew Cream Cake
By Emily von Euw (www.thisrawsomeveganlife.com)
Makes 8-10 | Prep 30 mins plus 12 hrs for chilling | Cook 2 hrs | Calories 380 (per serving)
Ingredients
For the crust:
150g (5½oz) buckwheat groats
150g (5½oz) almonds
dates, if needed
For the cake:
400g (14oz) frozen strawberries
300g (10½oz) cashews, soaked in water for at least 1 hour, then rinsed
1 tsp vanilla extract
½ tsp sea salt
2 tbsp maple syrup
115ml (4fl oz) water
2 tbsp lemon juice
2 tbsp coconut oil
For the drizzle:
1 tbsp carob powder
2 tbsp maple syrup
1 tbsp coconut oil
Method
For the crust, preheat the oven to 150ºC/Gas Mark 2. Soak the buckwheat groats in water for 30 minutes, then rinse and bake at a low temperature for about 2 hours until they are dry again. Grind the groats and almonds into flour in a high speed blender, then continue until they form a paste.  You want to end up with a mixture that holds its shape when you press it together, so add as many dates as needed, or some coconut oil or water. Press into the bottom of a lined springform tin, then put it in the fridge.
For the cake, blend all the ingredients, except the strawberries, together until smooth and thick. Set aside about one quarter of this mixture in a bowl. Put the strawberries in the blender with the mixture that's still in, then blend until it's smooth and a lovely pink. You still want the texture to be like very thick yoghurt, so if it's too thin, add some more coconut oil, cashews, or some dates. Pour onto your crust, then scoop on the remaining white cream mixture, spreading it evenly. Put the cake in the fridge for at least 12 hours, but preferably 24-48 hours, so the flavours can get to know each other.
For the carob drizzle, melt the coconut oil, then stir together all the ingredients until smooth. Garnish the cake with fruit and nuts, drizzle with carob sauce and enjoy!
For more great recipes by  Emily von Euw, visit www.thisrawsomeveganlife.com
Tags:
Dairy-Free Dessert
,
Dairy-Free Recipes
,
Gluten-Free Dessert
,
Recipes
,
Sugar-Free Dessert
,
Sugar-Free Diet
,
Vegan Dessert