Magazine Testimonials
Embrace your free-from diet with Free-From Heaven and Gluten-Free Heaven magazine- the delicious approach to loving your free-from lifestyle!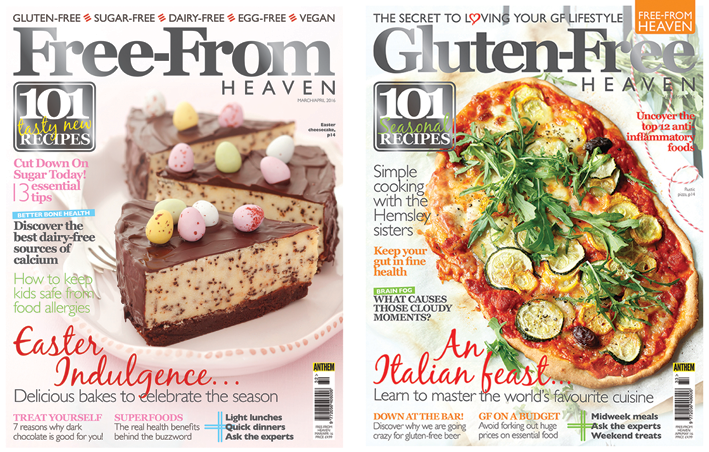 Free-From Heaven is the UK magazine series dedicated to free-from cooking and baking. Made up of bi-monthly issues of Free-From Heaven and Gluten-Free Heaven, each issue features 101 inspiring seasonal recipes, plus essential advice, interviews with the experts, competitions and all the latest product news. If you're following a gluten-free, dairy-free, sugar-free or vegan diet and want to add some delicious new recipes to your repertoire, these are the magazines for you.
"I get a couple of 'normal' food magazines a month. But it's only the with the 'Free Froms' that I mark something on almost every page to cook. Another fantastic issue. Thank you – especially for the pizza!!" – Anwen Evans
"Love this magazine, filled with scrumptious recipes – I definitely need more hours in my day to attempt them all!! Subscribed today and can't wait to receive my next issue smile emoticon keep up the good work Free-From Heaven!" – Carole Noon
"What a great magazines! You don't miss gluten with these recipes!" – Bonnie Rogers
"I'm a subscriber to Free-From Heaven as it is excellent for those like me who have multiple intolerances- keep up the good work please. People tell me there are good recipes on the internet but how do I know what to look for – I need inspiration and ideas and this is perfect. Thank you!" – Sara Hatchwell
"Fantastic recipes, very impressed! I can eat again!" – Tina Brain

Pick up your copy of Free-From Heaven and Gluten-Free Heaven from selected Sainsbury's, Waitrose and Tesco supermarkets, as well as WHSmith, Hobbycraft and independent newsagents or order online from us here.
Don't forget to join us over on Facebook, Twitter and Instagram to keep up to date with the latest free-from news, recipes and information…
Tags:
Magazine