White Chocolate Passionfruit Cupcakes
Beautifully sweet white chocolate buttercream pairs perfectly with the tart, passionfruit curd centre of these delicious white chocolate passionfruit cupcakes.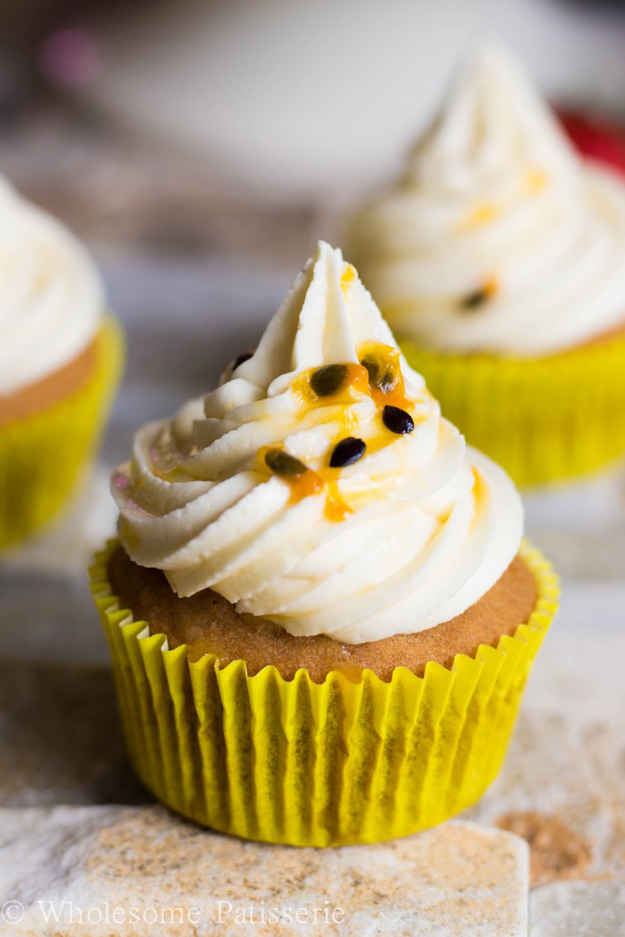 White Chocolate Passionfruit Cupcakes
By Samantha Pickthall (Wholesome Patisserie)
Serves 12 | Prep 10 mins | Cook 20 mins|
GF
Ingredients
Cupcakes:
1 cup brown rice flour
1 cup potato starch (not potato flour!)
1 cup coconut sugar
1/2 tsp himalayan pink salt
1 tsp baking powder
1 tsp baking soda
1 tsp guar gum
1 cup almond milk
1 egg
3 Tbsp coconut oil, melted
1 Tbsp vanilla bean extract
1/4 tsp lemon juice

Passionfruit Curd (best made the day before to allow it to set):
2 eggs, lightly whisked
100g butter, cubed
1/2 cup passionfruit pulp in syrup or passionfruit concentrate
1 cup raw caster sugar
White Chocolate Frosting:
150g white chocolate, melted
80g butter, chopped into chunks
4.5 cups icing sugar, (gluten free)
3-4 Tbsp almond milk
1 tsp vanilla bean extract
Method
Cupcakes
Preheat oven to 180ºC (356ºF) and line a 12 cup-cupcake pan with patty liners.
In a large mixing bowl, whisk all dry ingredients together.
Make a well in the centre, add in all wet ingredients.
Beat mixture until a smooth batter, making sure you do not over beat the batter.
Spoon batter evenly amongst the cupcake liners.
Bake for 15-20 minutes until golden and a skewer inserted into the middle comes out clean.
Cool in pan for 5 minutes then remove and transfer cupcakes to a wire rack to cool completely.
Passionfruit Curd
Create a double boiler by half filling a medium sized pot with water and placing a medium-large glass mixing bowl on top. Making sure the water is not touching the bottom of the bowl. Turn onto medium heat.
Add all curd ingredients into the bowl and cook until mixture thickens. Occasionally stir mixture with a whisk until all the butter has completely melted and ingredients are combined. You don't want the curd to start boiling so keep the heat on medium, just keep an eye on it.
You will want to start constantly whisking the curd when it begins to thicken, this will take approx. 15-20 minutes.
The curd should be thick enough to coat the back of a wooden spoon.
Strain curd through a fine mesh sieve into a clean bowl.
Cover with plastic wrap and set in the refrigerator. This will allow the curd to thicken further.
White Chocolate Frosting
In a double boiler over low-medium heat, melt white chocolate. Begin frosting while chocolate is melting but remember to stir the chocolate every now and then.
In the bowl of a stand mixer or using a hand mixer, add butter. Using the whisk attachment, whisk the butter for 30 seconds or until just soft. Gradually add icing sugar, 1 cup at a time.
If white chocolate is done, take it off the heat to let it cool slightly.
Between the addition of the icing sugar, add almond milk, 1 tablespoon at a time. Add in vanilla extract and beat well.
Add melted white chocolate and beat mixture for a further 1-2 minutes or until light and fluffy.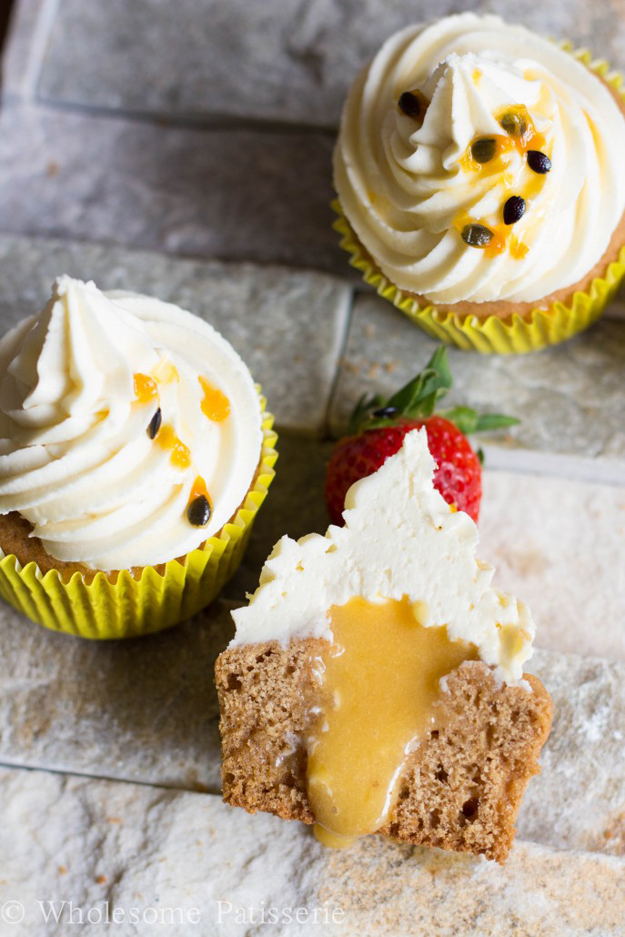 Assembly
When cupcakes have completely cooled, take a small sharp knife and cut a V-shaped piece out of the top of each cupcake, about 2cm deep x 2cm wide.
Spoon the passionfruit curd evenly among each cupcake.
Prepare a piping bag with a closed star nozzle.
Fill the piping bag with the chocolate frosting and pipe it onto each cupcake.
Cupcakes will keep in an airtight container, refrigerated, for 3-5 days.
---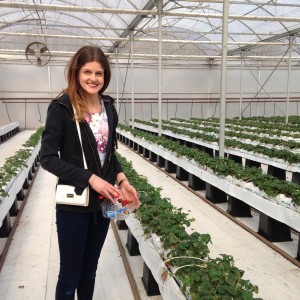 About the author: Samantha created
Wholesome Patisserie
to bring you into her world of endless amounts of chocolate, unbelievable gluten-free sweets, beautiful cakes and many more heavenly recipes. She holds a certificate III in Hospitality Patisserie, and a certificate III in Retail Baking (Cake & Pastry), and wants to show you that if you are eating a gluten-free diet, you can still have your cake and eat it!
Comments
Tags:
Chocolate
,
Cupcakes
,
Gluten-Free
,
Gluten-Free Cake
,
Gluten-Free Dessert
,
Gluten-Free Recipes