Big Oz Gluten-Free Breakfast Cereals
Big Oz is a family-run company dedicated to providing natural and wholesome gluten-free foods, made with organic ingredients. Their organic products won at the Free From Eating Out Awards for best food manufactured for food service.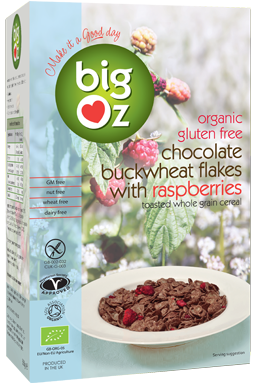 Big Oz's range of gluten free cereals use only the finest quality organic whole grains from suppliers certified by the Soil Association, and all of their products are approved by the Coeliac Society (yay!)
Their products are also suitable for those with dairy free diets, gluten and wheat free diets, and low salt diets, as well as vegetarians.
By using traditional methods of rolling and flaking, their grains retain the maximum dietary fibre and nutritional content. Big Oz's range includes flakes, granola, oats and puffs, made with a variety of gluten-free grains: rice, buckwheat, corn, millet, oats and quinoa.
Big Oz Flakes are ideal for making delicious porridges or used as a healthy cooking ingredient. Their range of puffs are a tasty and rich source of carbohydrate, and come in both uncoated puffs and organic honey-coated – for those who prefer a slightly sweeter option.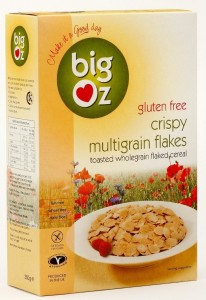 Their new range of classic crunchy cereals are lightly toasted until deliciously crispy so you can enjoy them with cold milk, yoghurt or with the addition of chopped fruit. Made from 100% natural grains from carefully-sourced growers, Big Oz's luxury granolas are a tasty mix of oats and fruit. Available with red berries or tropical fruits.
Head over to their website for more info!
Tags:
Cereal
,
Gluten-Free
,
Gluten-Free Breakfast
,
Products