Coconom
Coconom is an organic coconut brand whose mission is to help make the planet a healthier, happier place, one coconut tree at a time! At Coconom, they believe in keeping things simple and allowing the natural qualities of the coconut to shine. That is why they are commited to bringing you the highest quality, organic coconut products, that nature has to offer, to help you eat and live healthier.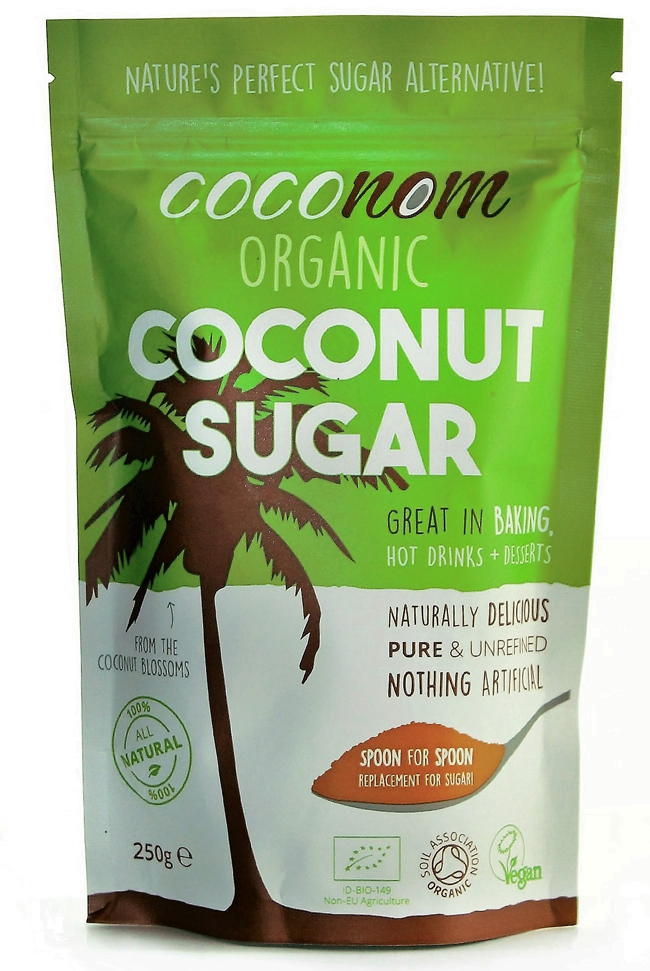 Coconom Organic Coconut Sugar
Nature's Perfect Sugar Alternative:
Coconom Organic Coconut sugar is a completely natural alternative to sugar made entirely from fresh coconut blossom sap, from the incredible coconut tree!
Pure and unrefined, our Coconut sugar is simply dehydrated under controlled temperatures with absolutely nothing artificial added, just as nature intended.
Naturally Tasty:
Thanks to it's naturally sweet "Caramel" taste (not of coconut!), you can use their delicious Coconut sugar as a perfect spoon for spoon (1:1) replacement to normal sugar, in any dish or recipe. From pancakes to porridge, smoothies to coffee, crumbles to cake, just pop Coconom in your measuring spoon or cup and away you go. And because their Coconut sugar is not processed or refined, it actually retains nutritional value of the amazing coconut such as; potassium, magnesium, zinc and iron, meaning no unwanted "empty" calories!
Positive Impact:
Coconom is proud to be ethically and sustainably sourced. Because they directly partner with local farmers in rural Indonesia, who utilise sustainable and organic farming practises that protect the environment, it means they actually help to provide families a higher standard of living. How sweet is that? Now you can truly enjoy the sweeter things in life with nature's perfect alternative to refined sugar. Hurrah!
If you're new to coconut sugar, here's some tips and tricks to help get you started!
Does not taste of coconut!
Use it just like normal sugar in food, drink and recipes. One spoon of normal sugar is equivalent to one spoon of Coconom coconut sugar.
Fantastic in baking. Try it in homemade brownies or a banana bread!
Sprinkle onto porridge or museli, fruit or mix into natural yogurt.
Stir into your morning coffee
Blend into smoothies and shakes.
Naturally sweeten all kinds of puddings and desserts.
Need a finer texture? Give it a whirl in a spice grinder/blender to achieve an instant "powdered sugar"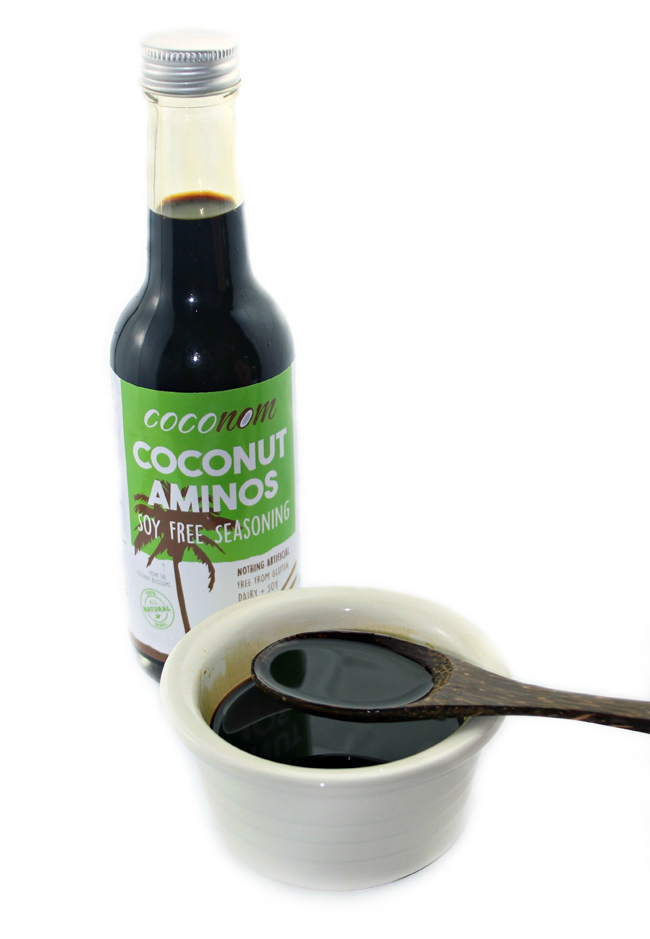 Coconom Coconut Aminos
Coconom Coconut Aminos is a completely natural and tasty alternative to soy sauce, made entirely from the fresh blossom sap of the coconut tree. This nutrient-rich sap is simply aged and fermented with sundried sea salt which develops a naturally delicious umami-rich flavour similiar to a traditional soy sauce!
Unlike soy sauce, Coconom Aminos is 100% free of soy, wheat, dairy and gluten and is a naturally high source of coconut nutrition, including 17 essential amino acids (the building blocks of protein), B vitamins and important minerals, making it the perfect replacement for those avoiding soy and gluten and for paleo diets.
Coconom Coconut aminos (which does not taste of coconut) can be used as a direct replacement for soy-based sauces so you can add fantastic "umami" flavour to all of your favourite dishes and recipes, without the soy! Coconom is 100% natural with nothing artificial added. Zero preservatives, and is perfect for cooking, marinating, stir-frying, seasoning or just dipping. You will love it!
Recommended uses:
Toss into stir-fries, sautéed veggies and seafood.
Marinate poultry, meat, seafood, vegetables and tofu.
Sprinkle onto steamed veggies, grains, noodle and pasta dishes and eggs.
Enjoy straight as an accompaniment to sushi and spring rolls.
Add 1-2 tsp. to liven up sauces, soups, stews, gravies and casseroles.
Splash onto salads and savoury dishes to intentsify the flavour!
Blend with other ingredients for your own dressings.
Allergen Information: Free From Gluten, Dairy, Milk, Wheat, Cholestrol, Additivies, Preservatives. Packed in a facility that also handles tree nuts.
For delicious recipes and more, find Coconom on www.coconom.com,  Facebook, Twitter and  Instagram.
Tags:
Products