Creative Nature, an award-winning business that prides itself as the go-to inclusive food brand for those with allergies, has announced the launch of its Gnawbles, the UK's first gluten-free Maltesers with 43% less sugar.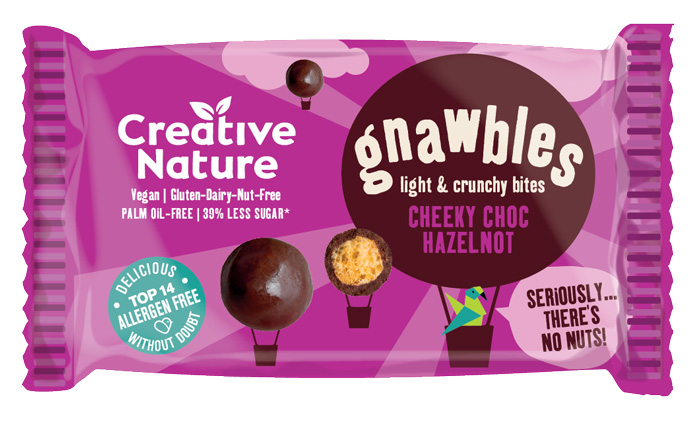 Gnawbles are delectable bites of chocolate with a crunchy puffed pea protein centre that are the closest thing to a vegan, gluten free Malteser! Gnawbles are free-from all of the Top 14 Allergens, which makes them safe for those that are Gluten-Free, Dairy-Free, Nut-Free or even Soya-Free. These delicious treats are also Vegan and Certified Kosher and with 43% less sugar than the market leading brand, they are the perfect healthy snack for work. Each 30g serving is around 150 calories, and the range is available in individual and share bags. The flavours in the range include HazelNOT, Salted Caramel and a delicious M*lk option!
Creative Nature sources the highest quality ingredients to maximise the health benefits and  is a huge advocate for caring about the environment and works to make sure they have the most sustainable packaging without compromising on safety. The full Creative Nature range is palm oil free, and the company is very selective of ingredient suppliers to ensure Anti-Slavery, Anti-Animal Cruelty and Anti- Child Labour.
The Creative Nature Gnawbles are available from £1.69 via the Creative Nature website and at Waitrose, Ocado, ASDA and Holland & Barrett.
Website: www.creativenaturesuperfoods.co.uk
Instagram: https://www.instagram.com/creativenature/