Delicious Keto & Collagen Snacks from Locako To Help You Glow
Having taken Australia's healthy lifestyle scene by storm, cult keto snack brand Locako is finally hitting UK shores too!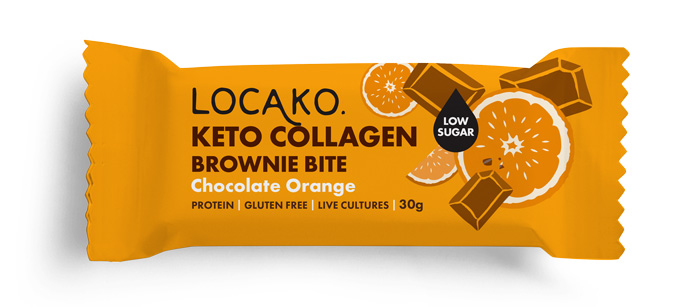 Offering a range of delicious low-carb, keto and collagen snacks, Locako products are made with the healthiest and cleanest possible ingredients. From Collagen Snack Bars and Edible Cookie Dough to Chocolate Gummies and flavoured Coffee Creamers, there is something new and unique for all wellness enthusiasts to try!  
The Locako range challenges the status quo with its innovative product formats, incredible taste and unique healthy ingredients. You'll find no added chemicals or solvents in any of their products, and the range is also all gluten- and dairy-free! 
Keto Collagen Snack Bars, RRP £2.99/40g bar or £30/carton of 50 bars 
Perfect for when you're on the go, or in need of a quick snack, the Locako Keto Collagen bars are high in essential fats and protein, and low in carbs and sugar. Offering excellent nutritional macro content, they are made with the combination of pasture-raised bovine collagen and coconut MCT that support your hair, skin, nails, joints and gut health. Available in two delicious flavours: Chocolate Hazelnut and Chocolate Caramel. 
DIY Mixes – RRP from £6.49
These fun family-friendly kits offer delicious snacks to be enjoyed by everyone, guilt-free and in the convenience of your own home. With just a few easy additional ingredients, such as coconut oil, coconut cream or just water, the only struggle you'll have when making these is having self-control to share the treats. 
Chocolate & Peanut Butter Mousse RRP £7.99 – 120g

Edible Choc Chip Cookie Dough RRP £7.99 – 120g 

Chocolate Gummies RRP £7.99 – 120g 

Peanut Butter Collagen Brownies RRP £10.39-220g 
Keto Collagen Protein Powders, RRP £23.99/300g
Crafted using the cleanest ingredients, each serving of this daily protein boost provides 10g of collagen to support hair, skin, nail and joint health. The protein powders also contain MCT oil, which can help with ketone production and feeling fuller for longer. Have it with nut milk or add to shakes and smoothies. Available in three flavours, Vanilla, Chocolate and Salted Caramel. 
Coffee Creamers, RRP £20.99/300g (25 servings)
Avoid those hidden carbs coming from certain plant-based milks, such as oat or rice milk, in your morning coffee! These creamers are great low-carb alternatives that will also add a subtle sweetness to your drink. Made with coconut milk powder, the creamers will also further enrich your favourite morning drink with pasture-raised bovine collagen and MCT oil for added health and beauty benefits. Available in three flavours: Natural, Vanilla, and Cookies & Cream. 
Beauty Collagen Powder, RRP £27.99/300g (30 servings)
A delicious addition to your green smoothies or chia puddings, Locako's Beauty Collagen powder is available in Tangy Blueberry and Australian Native Finger Lime flavours. Packed full of
antioxidants, bamboo silica, macadamia oil and hyaluronic acid to create a radiant and smooth complexion, the collagen-rich powder is a health and beauty-enhancing sensation!
Tags:
Dairy-Free Products
,
Gluten-Free Diet
,
Gluten-Free Products
,
Gluten-Free Snacks
,
Products