Doves Farm Launches new Range of Breakfast Cereals
The UK's #1 organic flour brand Doves Farm has launched a brand-new range of organic and plant-based breakfast cereals, offering health and eco conscious shoppers a tasty alternative for breakfast.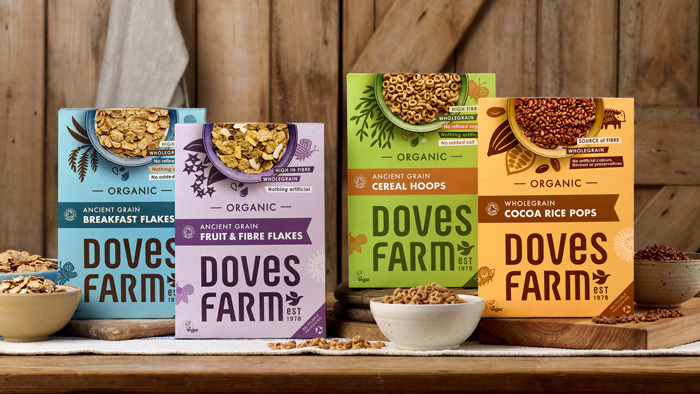 The new range includes four breakfast cereals; Ancient Grain Breakfast Flakes, Ancient Grain Fruit & Fibre Flakes, Ancient Grain Cereal Hoops and Wholegrain Cocoa Rice Pops. The cereals are wholegrain, made using ancient grains such as buckwheat, teff and quinoa while containing no artificial colours, flavours or preservatives.
Appealing to the health and eco conscious consumer, the range is vegan, gluten free and high in or a source of fibre while also being made using sustainably grown organic ingredients and comes in recyclable packaging.
The crunchy Ancient Grain Fruit and Fibre Flakes (RRP: £4.49 for 300g) mixes buckwheat and wholegrain rice flakes with banana, coconut, sultanas and apple pieces. The multigrainAncient Grain Breakfast Flakes (RRP: £3.99 for 375g) and the Ancient Grain Cereal Hoops (RRP: £3.79 for 375g) are both made with buckwheat, quinoa and teff, and are high in fibre. They also have no added salt, no refined sugars and nothing artificial leaving them packed with wholesome cereal flavour. The Wholegrain Cocoa Rice Pops (RRP: £2.99 for 300g) are made with organic wholegrain rice, are a source of fibre and have a delicious chocolatey taste.
The full range is available now at www.dovesfarm.co.uk.
Tags:
breakfast
,
Gluten-Free Breakfast
,
Gluten-Free Diet
,
Gluten-Free Products
,
Products