Go Sober In January with St Peter's Without
If your new year's resolution is to ditch the booze, then St Peter's Without® 0.0% alcohol beer is the perfect choice to get you through Dry January and beyond.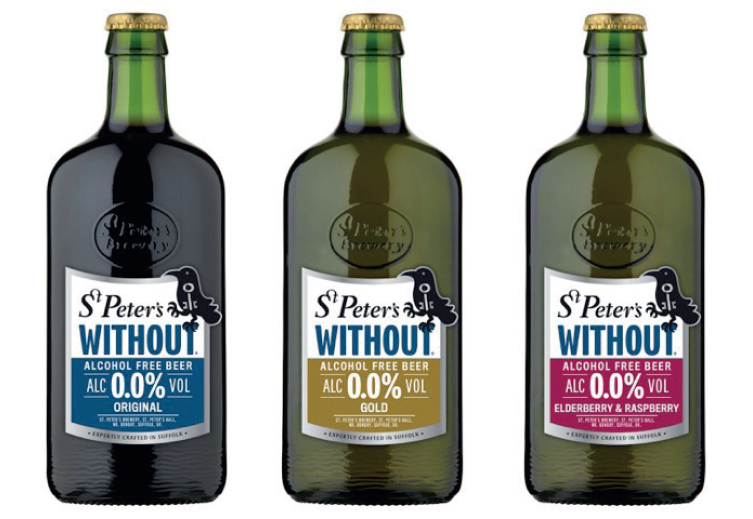 St Peter's brews three delicious alcohol-free beers: Without® Original and Without® Gold and Without® Elderberry & Raspberry, offering a delicious choice for both ale and lager drinkers with zero alcohol and at least 25% fewer calories.  
Without® Original is deliciously malty, full-bodied and bursting with flavour – just what you'd expect from a finely-brewed ale, whilst Without® Gold is a hoppy golden ale with a full-bodied, slightly sweet malt flavour combined with a citrus bitterness, perfect for ale and lager drinkers alike.
Without® Elderberry & Raspberry is a delicious, refreshing and fruity beer with a pleasant fruitiness of elderberries and the lingering taste of raspberries. Expect a full-bodied and well-balanced beer with a smooth, subtly sharp bitterness.
Made from four natural ingredients: barley, hops, yeast and water, St Peter's Without® is 100% natural and contains fewer calories than an average beer making it a healthier choice all round. Plus, it even contains polyphenols that help stave off winter viruses.
The Without® range is made using all-natural ingredients, is vegan and completely free from alcohol. Available from Morrisons, Tesco, The Co-Op and from here…
Tags:
Drinks
,
Gluten-Free Beer
,
Gluten-Free Drinks
,
Gluten-Free Products
,
Products