Livia's indulgent free-from range
INDULGENT FREE-FROM SNACKING – THE PERFECT PICNIC TREAT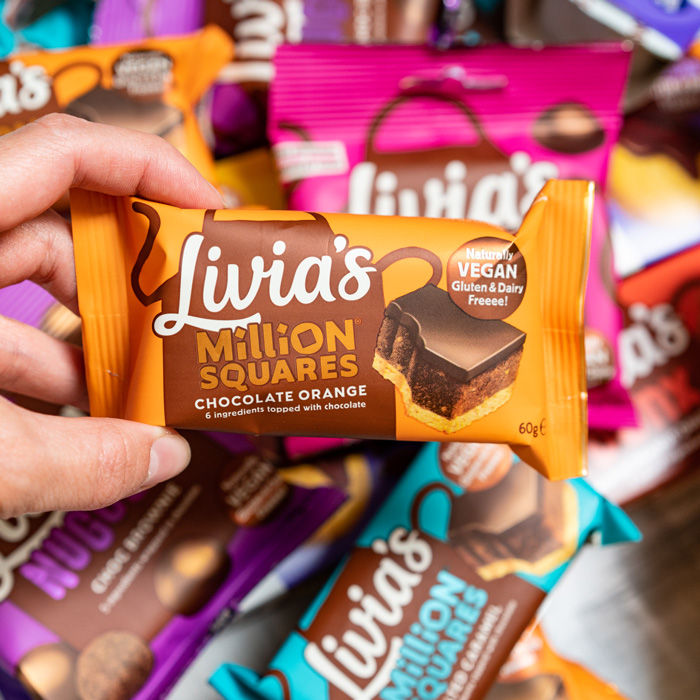 Whether you're packing your picnic basket for summer days out this National Picnic Month, thinking about what to put in the kids lunch boxes when they head back to school or popping something in your bag for an on-the-go snack on your way to work, Livia's indulgent free-from range makes the perfect treat.
Proudly vegan, gluten-free and dairy-free, with 100% natural, plant-based ingredients, the scrumptious product range from Livia's offers a healthier alternative to regular snacks, ideal for both adults and kids.
Livia's range of indulgent treats includes:
Livia's Nugglets – these delicious bite-sized treats are made from 5 ingredients forming a sweet, gluten-free oaty centre, coated in smooth, velvety plant-based chocolate.  Choose from decadent Chocolate Brownie or mouth-watering Cookie Dough.  RRP £1.79 for 35g bag
Livia's Million Squares – those looking for a naturally delicious, vegan treat will love our Salted Caramel or Chocolate Orange Squares. 6 ingredients make up a delicious centre, topped with delicious dark plant-based chocolate. RRP £1.79 for 60g
At Livia's, there is no compromise on taste or taking care of the planet.  Livia's champions sustainability and recycling and was one of the first challenger food brands to switch to recyclable ready food-grade film.
Deliciously indulgent, Livia's uses simple and natural ingredients with a touch of magic to ensure all snacks are free from gluten, dairy, refined sugar, palm oil and preservatives.
Available in stores and online nationwide including www.livias.com, Tesco, Boots, Holland & Barrett, and now also available on Easyjet airlines.
facebook.com/liviastreats    instagram.com/@livias        www.livias.co.uk
Tags:
Gluten-Free Diet
,
Gluten-Free Products
,
Products
,
Vegan Products