One of the UK's leading better-for-you snack brands, PROPER Snacks, has launched of a new HFSS-compliant range of lightly ridged potato crisps; PROPERCRISPS.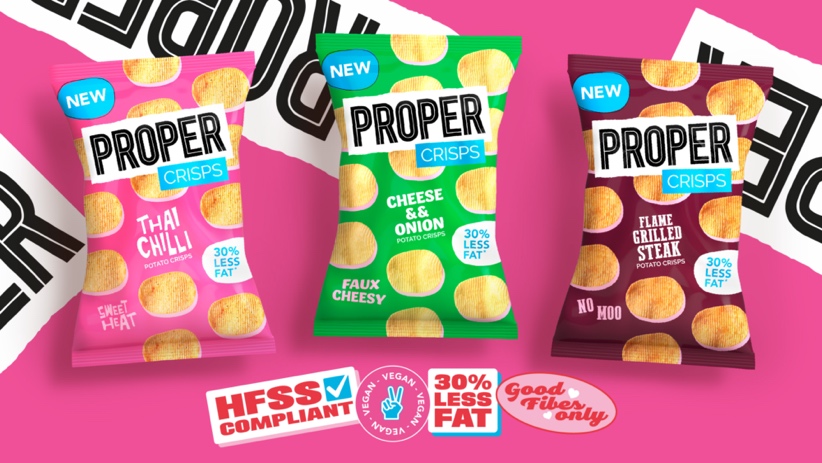 The healthier potato crisps contain 30% less fat and salt than leading ridged potato crisps and have the added benefit of being a source of fibre, thanks to the addition of pea fibre and protein. The PROPERCRISPS range is also vegan, gluten-free and free-from palm oil.
PROPERCRISPS is putting its own vegan spin on three classic crisp flavours, by launching Thai Chilli, Cheese and Onion and Flame Grilled Steak in stores nationwide. The lightly fried, ridged potato crisps offer a satisfying and crunchy snack, with less grease and guilt.
The launch responds to growing consumer demand for healthier potato crisp options, with low-fat, low-salt and low-calorie ranking as the top three most important health factors according to consumers looking for healthier crispS.
Founder, Cassandra Stavrou explains: "First it was popcorn, then it was lentil chips. Now we're ready to take on the snacking category with our newest range – PROPERCRISPS.
Healthier snacking is showing no signs of slowing down. We're proud to offer a healthier twist on the traditional potato crisp. We've chosen three cult flavours we know snackers love and have found a unique way to increase fibre whilst reducing fat and salt.
Since our inception, we have always prided ourselves on offering better-for-you snacks that never compromise on taste. The launch of PROPERCRISPS responds to an unwavering demand for potato crisps that are satisfying, tasty and guilt-free. Our own comprehensive research has shown that consumer demand is still not being met with the current offering. So, it's time for us to bring our proven, healthier snacking formula, into the crisps sector."
PROPERCRISPS have launched in ASDA, Ocado, Boots and Amazon. Sharing packs, RRP £2.00 / 100g. Single packs, RRP £0.95 / 30g.
You are what you eat. So eat PROPER.