Raw Chocolate Pie
Raw Chocolate Pie are a small, family-run business in Cornwall, who create delicious dairy, gluten and sugar-free raw handmade chocolate bars, which are packed full of superfoods, for a guilt-free sweet treat.
We are delighted to be able to offer you the chance to win a box of seven different flavours of your choice when you sign up to our newsletter below.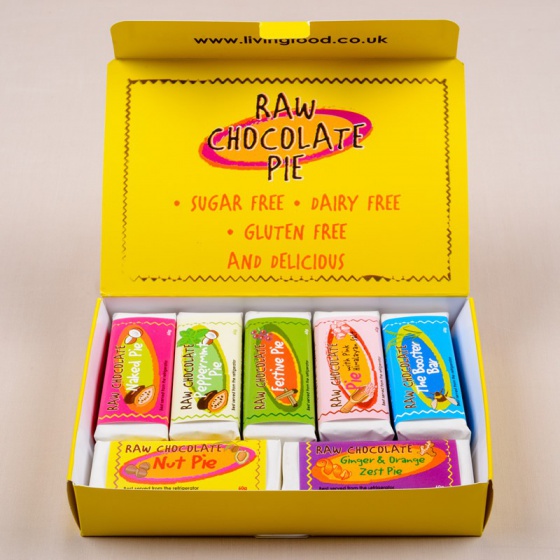 Despite what you might think, chocolate is good for you, and in many civilisations is considered an important medicine. What gives it such a dubious reputation here in the West, is the rubbish we so often put with it; fat, sugar and all manner of additives.
Raw cacao beans are known as 'the food of the Gods'. They are a true superfood with amazing properties and were much prized by the Aztecs. Associated with happiness, raw chocolate's unique combination of natural chemicals helps alleviate depression and promotes a sense of well being. Raw chocolate contains anti-oxidants and research shows that they are highly stable and easily available to the human metabolism.  Chocolate in it's purest form also contains a high level of magnesium which supports the heart, brain and the building of strong bones, and gives you a wonderful energy boost.
So what exactly is a 'raw chocolate pie'?
Raw Chocolate Pie's take chocolate back to the basics. They are rich, dark chocolate treats, bursting with textures and flavours, made primarily using cacao, Lucuma powder, agave nectar and coconut oil. They are made using the finest quality cacao beans, and are sourced using a reputable importer, so this is chocolate you can really feel good about tucking into!
This is not your typical chocolate; the cacao nibs add texture and crunch throughout the bar, and the richness of the chocolate flavour means just a small piece of these heavenly bars will leave you feeling satisfied.
There are over 26 flavours to choose from, such as 'Pink Himalayan Salt','Goji and Pumpkin Seed', 'Cardamon and Apricot', 'Popcorn' and 'Green Tea and Lemon'. They also produce a range of raw, melt-in-the-mouth fudges, which are simply delicious; although what would you expect from a Cornish company?!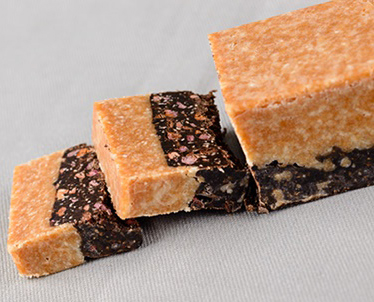 To find out more about Raw Chocolate Pie, visit their website, or get in touch with them on Twitter.
For your chance to win a box of seven delicious flavours, simply sign up to our mailing list below.
Tags:
Products